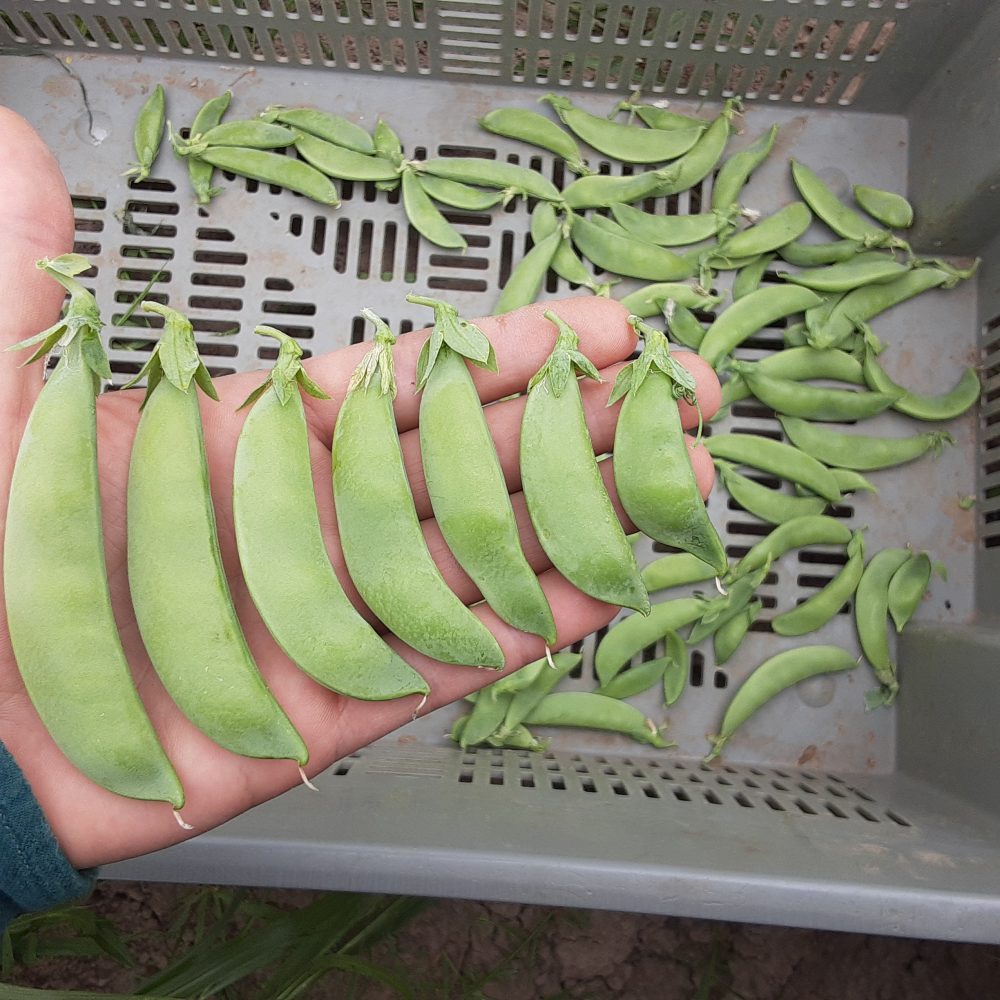 "Your imagination costs you nothing, but it will cost you
everything if you refuse to use it."
~Robert Battle
Summer Share Box 8 Crop List
Summer Squash (All Shares)
Slicing Cucumbers (All Shares)
Green Cabbage (All Shares)
Tomatoes (All Shares)
Peppers (All Shares)
Sugar Snap Peas (All Shares)
Red Potatoes (All Shares)
Zucchini (Full and Single shares)
Buttercrunch Lettuce (Full and Single Shares)
Oregano (Full and Single Shares)
Red Kale (Full Shares)
Green Beans (Half Shares)
Eggplant (Half Shares)
Farmer Notes
Really dry here – read more in our farm article
Last of our lettuce for a couple of weeks – lots more in the fall

Bobbie, one of our resident cows, striking a pose for the camera!

Red potatoes are uncured and will not store for long.  I keep them in a paper bag in the fridge for 2 weeks
Red kale is for full shares and is Redbor
Sugarsnap peas are a treat since they are sweet and you can eat the whole pod
Bell peppers are just coming of age – some of you get these or else the 'medium heat' Beaver Dams
You should all expect tomatoes for the next month or so.  Right now we have some Big Beef slicers, or sungold and yellow minis
Sweet corn should be ready for week 9
Oregano goes nicely with potatoes or any of the roasted vegetables.  Put it in a glass of water on the counter or hang it up somewhere to dry
Thank you for washing all of the produce and for returning our boxes and ice packs
We are in the middle of a prolonged period without any rainfall.  We received an inch of rain 5 weeks ago, 1/4″ a few days after that and now nothing for over 3 weeks and nothing in the 10 day forecast.  We have drip lines running day and night and we are watering by hand most evenings and weekends, but there is no way we can get to all of the crops, and even when we do it cannot take the place of a good soaking rain.  Many of the deep rooted crops like the corn and potatoes are hanging strong, but everything is feeling the effects.  We are harvesting much less cucumbers, squash and eggplant now and the length of their season will not be as long.  Hopefully we can keep most of the fall crops hydrated enough to see them through until it does rain.  I will tell you, it is stressful.  It certainly reminds me that I can only control so much, and that the dance in Earth Dance is about Mother Nature taking my hand and leading me in the fields of life.
~Farmer Norm
Crop of the Week: Sugar Snap Peas
Snap peas, also known as the sugar snap pea, are edible pod peas with rounded pods and thick pod walls.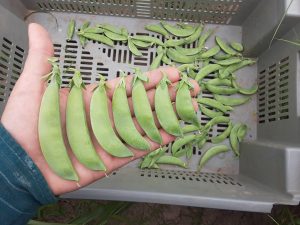 They are very similar to snow peas in the sense that you eat their pods, but different in the sense that the snow pea has a flatter pod with thinner walls. The pods are much less fibrous than, say, a shelling pea. This crunchy sweet crop is a vining plant which requires trellising for optimum growth, and it also makes harvesting much easier! Their pods typically grow to be 1-3 inches in length and we always enjoy snacking on them as we harvest for the CSA. Aside from eating them raw, they can always be steamed or sautéed and you can even make snap pea chips if you are feeling creative!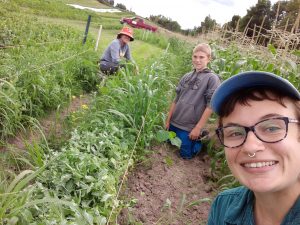 Sugar snap peas are very low in calories and high in nutrition, bringing a good serving of vitamin C, vitamin K, iron, calcium, and potassium to your plate. It is a veggie that is said to help control blood sugar, promote heart health, and aid eye health. The best storing method is to put them in a perforated plastic bag in the crisper drawer of the refrigerator and they can keep up to two weeks. We hope you enjoy!
Some recipes to try:
In a large skillet, heat oil over medium high heat; saute zucchini and onion until crisp tender, about 6-8 minutes. Stir in seasonings. Add vinegar; cook and stir for 2 minutes. Top with cheese and enjoy!
Instructions
Chop your tomatoes up into small pieces. Put them in a food processor and pulse 8 times. Transfer to bowl once processed.

Chop up the green pepper and onion with a knife. Add to the bowl with the tomatoes, along with all the seasonings and stir to combine evenly.

Enjoy with tortilla chips, or as a topping for just about anything!
Optional: remove the strings from both edges of the pea pods by gently pulling them starting at the stem.

place the peas in a steamer basket set over 1 1/2 inches of boiling water, cover, and steam until they are just crisp-tender, 3-5 minutes.

Drain the pease in the sink and immediately run cold water over them. Transfer the peas to a clean, dry, dish towel and pat them dry. Place in a large bowl and add the cucumber.

Put the oil, walnuts, lemon juice, water, dill and cayenne pepper into a blender. Blend until smooth.

Pour the walnut-dill dressing over the cucumbers and peas and toss to combine. Season with salt and pepper and serve.