"Life is a dance. Mindfulness is witnessing that dance."
~Amit Ray~
Summer Share Box 13 Crop List
Potatoes – All Shares
Eggplant – All Shares
Summer Squash/Zucchini – All Shares
Peppers (Bells and/or Ajvarski sweet pepper, and hot wax) – All Shares
Lettuce – All Shares
Tomatoes – All Shares
Kale – All Shares
Parsley – All Shares
Watermelon – Full Shares
Beets – Full Shares
Sweet Onions – Full Shares
Collard Greens – Full Shares
Farmer Notes
Blight has definitely taken hold of our tomatoes after all of that rain we got but there are still some good tomatoes out there yet – I think for sure we will have one more delivery worth but after that is uncertain.
We do our best to check the tomatoes over before putting them in boxes, however sometimes we  miss a tiny blight spot which after a few days will turn into a bigger, more noticeable, spot. Just something to keep an eye out for. If that does happen to you, just cut that piece off and enjoy the rest of the tomato!
Our parsley is looking beautiful and is our 'crop of the week' this week, find some fun recipes down below
This is the final batch of melons for real this time
This is the last of the lettuce for a while. The red romaine didn't do as great as the green, not forming a head and also looking a bit squirly but surely will still make for a nice salad!
Please handle boxes with care and continue to return them as well as our ice packs, thanks!
Crop of the week – Parsley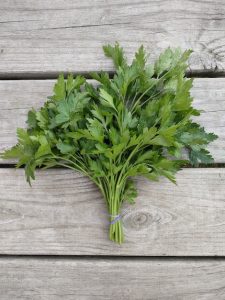 Parsley or garden parsley is a species of flowering plant in the Apiaceae family that is native to the central Mediterranean region, but has naturalized elsewhere in Europe, and is widely cultivated as an herb, a spice, and a vegetable. Parsley is a popular culinary and medicinal herb recognized as one of the functional foods for its unique antioxidants, and disease preventing properties. It is widely and most commonly used as a garnish, simply sprinkled on top of a dish yet it is good for so much more! Parsley is a great flavoring agent in the preparation of vegetables, chicken, fish, and meat dishes in general but is great in all kind of dishes across the board, hot or cold!
This healthy herb is a good source of minerals such as potassium, calcium, manganese, iron, and magnesium. Additionally, is also rich in antioxidant vitamins like vitamin A, B-carotene, vitamin-C, vitamin-E, zeaxanthin, lutein, and cryptoxanthin and is an excellent source of vitamin K and folates. It is, perhaps, the richest herbal source of vitamin K! Might I mention its medicinal properties as well; the leaves, stalks, and roots have antiseptic and carminative properties and is known to reduce blood sugar levels in diabetics.
Parsley is best stored in the fridge inside a container with a slightly damp paper towel or dried in an airtight glass container, however dried parsley is nowhere near as potent or flavorful as the fresh stuff. I hope you are able to find some creative/new ways to use up this leafy green herb!
~Vanessa
Some recipes to try:
Native to Argentina, chimichurri is an easy to prepare sauce that intensifies with age. The freshly chopped parsley and garlic, combined with the red wine vinegar, is what gives this cause its unique and tangy flavor, several variations of the recipes can include cilantro, chiles, or lemons. Chimichurri will enliven a dish of roasted vegetables, baked potatoes, scrambled eggs, and tastes great drizzled over smoky grilled meats. 
In a medium bowl, combine all the ingredients. Less oil can be used for a chunkier texture, or more oil for a looser one.

Pour sauce into a jar, cover, and let stand at room temperature overnight before refrigerating.

A well-aged chimichurri has a deep green color bursting with flavor and spice. The sauce can be used after a few days or let to age in the fridge for up to two weeks.
Put the walnuts, parsley, cheese, garlic, lemon juice, and salt in a food processor and pulse for a few seconds to combine. Scrape down the sides of the bowl, then pulse again.

Drizzle in the olive oil while the machine is running just long enough to incorporate the oil, about 20-30 seconds.

Use immediately or cover with plastic wrap and refrigerate to store. Will last several days chilled.

Use with pasta or as a spread on bread or toast, or try using as a base sauce for pizza. Enjoy!
Combine tomatoes, parsley and red onion in a bowl.

Whisk together the lemon juice and olive oil or shake them in a lidded mason jar.

Pour the dressing over the salad and toss to combine. Taste and season with salt and pepper.