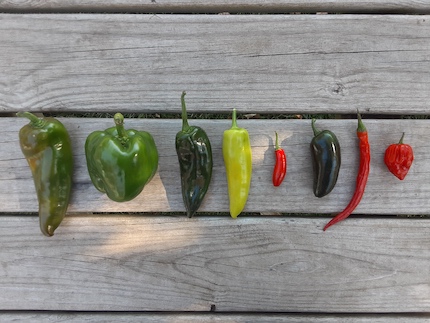 "Pain is inevitable, suffering is optional."
~Dalai Lama~
Summer Share Box 15 Crop List
Potatoes – All Shares
Fennel – All Shares
Peppers (Bells and Hot Wax) – All Shares
Radishes – All Shares
Eggplant – All Shares
Summer Squash/Zucchini – All Shares
Tomatoes – All Shares
Green Beans – All Shares
Parsley – All Shares
Collard Greens – Half Shares
Edamame – Full Shares
Acorn Squash – Full Shares
*Happy Fall everyone!  Today is week 15, so we have three more boxes after this one.  We would love to have you join us for our 5, bi-weekly delivery Fall Share!
*The radishes are beautiful, crisp and abundant – enjoy!
*The green beans are beautiful, crisp and abundant – enjoy!
*We are getting to the end of the summer squash and the tomatoes, but it has been a good run
*From the summer squash to the winter squash – everyone will get Delicata next week
*Edamame for the full shares is a special treat since we usually just grow these for ourselves.  Steam them and add a bit of butter and Sriracha to make a tasty finger-lickin' snack
*We switch back to the bell and hot wax peppers this week – next week we will offer a brown bag special of hot peppers for $20 for those of you who want to make hot sauce or to dry them and make powder 
*The potatoes are a baking potato called Cascade.  They have a wonderful flavor and store well
*Lettuce and beets for all next week
*Parsley is great with the potatoes, to make chimichurri or pesto,  with sauteed summer squash and as a garnish
This is a really nice time on the farm.  The weather is not too hot, and not yet cold.  The weeds and bugs have slowed, and we are no longer planting vegetable starts or seeds into the field.  The greenhouse is empty.  The frost seems to be keeping its distance and we received a 1/4 inch of rain this week.  The fields look a lot cleaner as I can mow down many of the old beds/crops and put large plots into different cover crops for the fall and winter.  Our energy is 73.4% into harvesting and in curing these for storage.  The remainder of our time lies in some weeding and irrigation, preparing and planting in the hoop house/caterpillar tunnel, covering bare soil in cover crops, and in field cleanup of row cover, plastic mulch, and drip tape.  Soon we will pay attention to frost protection of many crops still remaining in the field.  And so the year unfolds – we are super happy that you have joined us!!
~Norm
Crop of the week – Peppers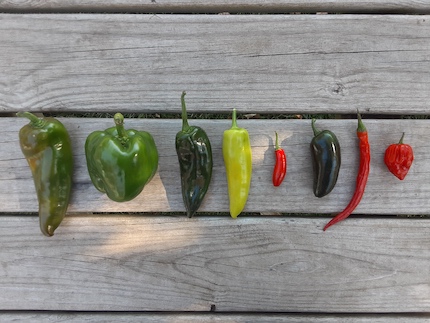 This week we are highlighting a familiar but nevertheless wonderful crop that many of you probably have in your kitchen at this very moment in differing forms, peppers. Peppers (genus Capsicum) are a member of the nightshade family – the same family as tomatoes, eggplants, okra and white potatoes. There are more than 30 species of flowering pepper plants and many of them are also wonderful additions to meals.
This season, we have 8 varieties of peppers. We have sweet bell peppers, cubanelles (also known as Italian frying peppers), hot wax peppers, poblano peppers, jalapeno peppers, serrano peppers, cayenne peppers and habanero peppers. You may have found several varieties of these peppers in your boxes already. Peppers can vary in size, heat and color, depending on the variety of the plant and what time of the year we harvest it. Hotter peppers, such as cayenne and habanero peppers, have higher levels of capsaicin, a chemical compound. Peppers can be eaten raw, pickled, or can be dried and powdered and used as a spice!. Hot sauce is often made out of hot peppers as well!
Peppers are native to South and Central America and are particularly important in the cuisines of many parts of Asia, Central America, as well as all over the world. Traces of pepper fruits have been found in the prehistoric remains of Peru and Mexico. It is believed that peppers were actually spread to Spain and other parts of Europe due to the seeds being mistaken as a form of Black pepper.
Capsaicin also has medical benefits as well. It can be applied topically in ointments and creams to soothe sore muscles and joints. Vanessa, our farm manager, has made a salve using cayenne peppers in the past and others have found it to be very beneficial. Capsaicin can also be ingested internally to help with digestion.
Throughout this season, you may get a variety of peppers that may seem a little unfamiliar but we hope that it will still bring joy, excitement and adventure to your kitchen and beyond!
~Evette
Preheat oven to 350 degrees F (175 degrees C).

Bring a large pot of water and 1 tablespoon salt to a boil; cook green bell peppers in the boiling water until slightly softened, 3 to 4 minutes. Drain.

Heat olive oil in a skillet over medium heat; cook and stir onion in the hot oil until softened and transparent, 5 to 10 minutes.

Mix rice, black beans, tomatoes, and cooked onion in a large bowl. Add chili powder, garlic salt, cumin, 1/2 teaspoon salt; stir until evenly mixed. Fold 1 1/2 cups Mexican cheese blend into rice mixture. Spoon rice mixture into each bell pepper; arrange peppers in 9x9-inch baking dish. Sprinkle peppers with remaining Mexican cheese blend.

Bake in the preheated oven until cheese is melted and bubbling, about 30 minutes.
Select fresh, unblemished peppers and chop them up. Put the chopped hot peppers and garlic in a mason jar.

Make Brine: Heat 1 cup of water with the salt, once the salt is dissolved, let the brine cool to room temperature.

Pour the Brine into the jar to cover the hot peppers and garlic.

Make sure to weight down the peppers to keep them fully submerged. (Use pickling weights, a glass weight, or a jar filled with water to keep them submerged)

Cover loosely with a lid and place somewhere cool and out of direct sunlight for 2-3 days.

Stir the brine every 1 to 2 days – this will prevent mold from growing.

Once the brine is cloudy, and it smells slightly sour after 2-3 days, put the mixture into a blender and process until smooth.

Transfer it to a clean glass jar and store it in the refrigerator, you can now put it on everything! The hot sauce will store for several months, if you see mold growing, it's time to toss it. But, we figure it is very unlikely to last that long, this stuff is GOOD!
If there is any mold, you may not have enough salt in your brine. Mold will not form on a proper brine, however, a white skim that forms on brine is not mold, it's yeast and you can scoop it out.
*Non-chlorinated, filtered, purified or distilled water is best as chlorine can affect the fermentation.
In a nonstick skillet, saute beans and peppers in oil for 4 minutes or until crisp-tender. Stir in vinegar, basil, salt, and pepper. Serve.