"You are more beautiful than you realize, stronger than you know, more powerful than you could imagine."
~Cory Booker
Summer Share Box 2 Crop List
Romaine Lettuce – All Shares
Kale – All Shares
Boc Choy – All Shares
Cilantro – All Shares
Apple Mint – All Shares
Strawberries – All Shares
Chard – Full & Half Shares
Radishes – Full & Half Shares
Spinach – Full & Half Shares
Cauliflower – Flex Shares
Asparagus – Flex Shares
Garlic Scapes – Full Shares
Chives – Full Shares
Farmer's Notes
*We received an inch of rain last weekend – we are so happy!
*Spinach, lettuce, strawberries and radishes will make a great salad
*Mint  placed in a pitcher of water makes for a refreshing drink
*This is the last of the scapes, asparagus, and strawberries for this season
*The Boc Choy is beautiful and can be eaten in a salad, sauteed or stir fried
*Did anyone massage and marinate the kale last week?
*Swiss Chard is glorious sauteed with caramelized onions, some liquid aminos, a little vinegar
*Please wash all of your produce before you eat it
*Please return our boxes and ice packs so we can reuse them
Two of my sisters and a brother, all older than me, came up for a visit the last few days.  It sure is nice to be vaccinated, have Covid infection rates down, and to be able to socialize again.  I have a large family, and since we grew up on a small farm in Iowa, most of them make time to come to this farm to help out and to catch up.  We were able to do a wide gamut of farm activities together:  transplant Rosemary into the caterpillar tunnel, seed a bunch of pie pumpkins into trays, transplant red romaine starts into the field, wash a bunch of eggs, harvest garlic scapes.  It was also fun to just walk the farm, sit by our koi pond in the evening and talk, and make many scrumptious meals together.   The stories and laughs were good for my soul .  Amidst the business of my days, my life, the small gifts often go unnoticed – the fresh air, the stars and moon in the sky, the beauty of this rural setting, family.  Having some 'company' helped me to slow down some, open my eyes and heart a bit more, and be grateful for all the blessings in my life.  In a couple of weeks I have 2 other brothers stopping in for a few days.
I hope that many of you are also reconnecting with folks that you have missed over the past year.
~Norm
Crop of the Week: Bok Choy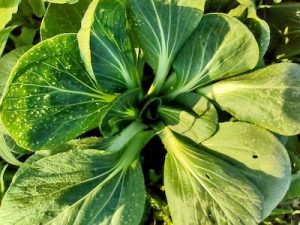 Week Two's featured crop is bok choy, a type of cabbage originating in China. The dark green leaves are similar to spinach and the crisp white stalks are delicious as well! Bok choy is high in vitamins A and C, beta carotene, and calcium, and can be eaten raw in a fresh salad or cooked. It's particularly good in stir-fry, soup, or simply sautéed as a side dish. It pairs well in dishes with ginger, garlic, and green onions.
Don't forgot to separate the stalks and wash them- but not until you're ready to use it in order to keep it fresh longer. It lasts in the refrigerator for 5-6 days when wrapped loosely in a bag and does best in the crisper drawer. It can also be frozen if blanched first.
~Farmer Katie
Some Recipes to Try:
In large serving bowl, add the kale, half of lemon juice, a drizzle of oil and a little kosher salt. Massage until the kale starts to soften and wilt, 2 to 3 minutes. Set aside while you make the dressing.

In a small bowl, whisk remaining lemon juice with the honey and freshly ground black pepper. Stream in the 1/4 cup of oil while whisking until a dressing forms, and you like how it tastes. Pour the dressing over the kale, and add the strawberries and nuts and/or seeds. Toss and serve.
Heat the oil in a very large pot over medium heat. Add the onion and garlic, and saute until tender, about 8 minutes. Add 1/3 of the spinach and saute until it begins to wilt, about 1 to 2 minutes. Continue adding the spinach 1 handful at a time, sauteing just until it begins to wilt before adding more. Add the soy sauce and crushed red pepper. Saute over high heat until spinach wilts. Season the mixture, to taste, with salt and black pepper. Transfer the mixture to a bowl and serve.
Heat vegetable oil in a large skillet over medium-high heat. Add garlic and ginger and cook until fragrant, about 30 seconds to a minute.

Add bok choy, soy sauce, and 2 tablespoons water. Cover and cook 1 minute, then remove lid and cook, stirring occasionally, until cores are tender and all liquid has evaporated. Transfer to a serving dish, drizzle with sesame oil and sprinkle with sesame seeds, if using.