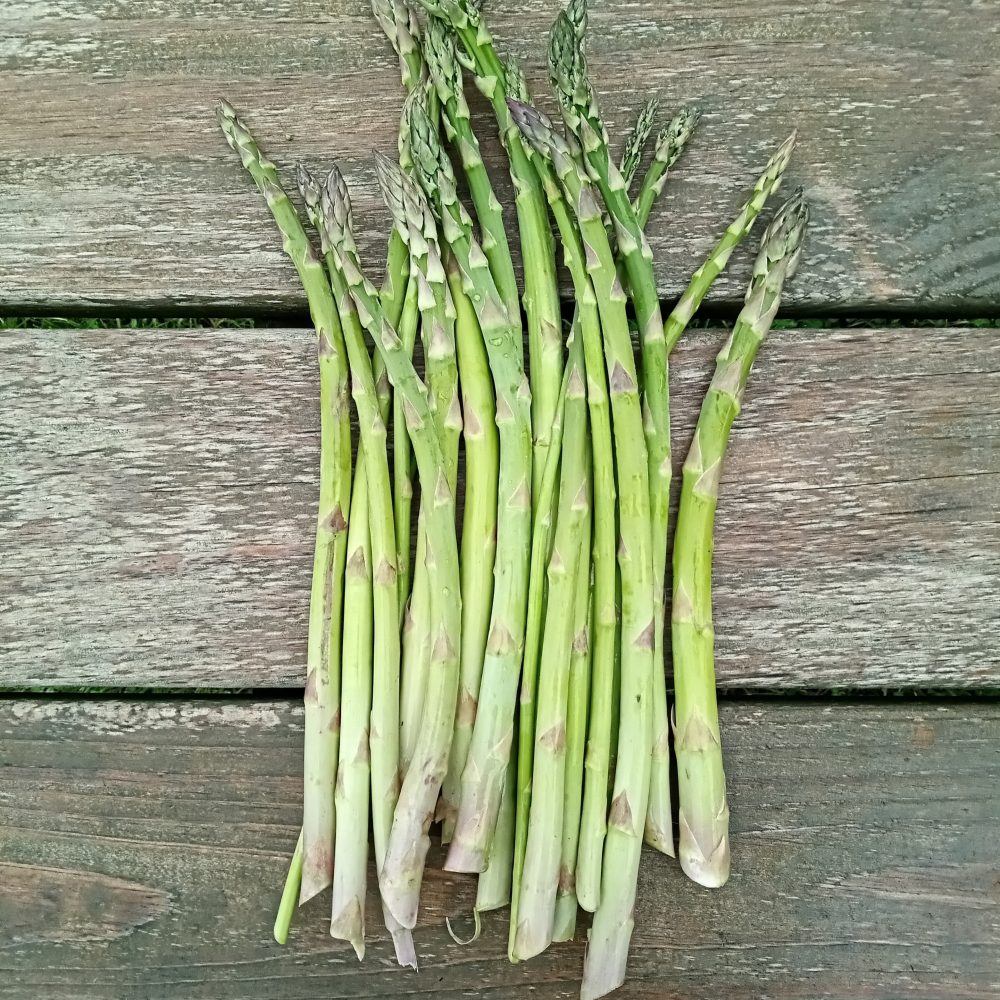 "Be willing to be a beginner every single morning."
Meister Eckhart
Summer Share Box 1 Crop List
Asparagus – All Shares
Popcorn – All Shares
Romaine Lettuce – All Shares
Napa Cabbage – All Shares
Kale – All Shares
Greens Mix (Spinach, Red Kale, Chard) – All Shares
Oregano – All Shares
Chard – Full Shares
Rhubarb – Full Shares
Farmer Notes
*We are so happy that you have joined us for our 2022 produce season!!
*Always wash all of the produce before you eat it
*Please return our waxed boxes and ice packs each week so that we can reuse them
*The greens mix today is 75% spinach, 15% red kale, and 10% chard
*The Napa is harvested a bit earlier than normal – they should be wonderful in salads, as a wrap, or sauteed/stir fried
*Popcorn needs to be shucked and then popped on the stovetop in hot oil, microwaved in a paper bag or air popped – enjoy!
*Asparagus is such a treat in late spring/early summer.  It is great grilled, roasted or pan fried with butter, but is also tasty in a cold salad
*Chard is wonderful sauteed with caramelized onions, some vinegar, coconut aminos, soy sauce etc.
*The oregano is a huge bunch meant to last you for weeks:  make pesto, dry it and save it for use later on, keep some on your counter in some water for easy use
*Rhubarb should be enough to make a pie, a crumble, or some sauce
*We hope that you enjoy your first summer box!!
There is always so much that has happened on the farm by the time we deliver our first
summer share. Here is to catch you up:
*Weather – the Spring was cool and windy. It took a long time for our soils to warm up. We
were 2 to 3 weeks behind normal in getting our crops into the fields. Consequently, we had to
harvest a crop or two early for this week and your box is certainly not full. Every year is
different, and challenging in old ways and often new ways. We have had a near perfect
amount, and timing, of rainfall!
*Membership – We are so grateful to all of you who signed up and gave us money for the
season. Your trust and commitment to local sustainable agriculture, and to Earth Dance Farm,
is what allows us to grow food for you! During the past 2 'pandemic' seasons, it was relatively
easy to fill up our membership capacity, but this year we had to beat the bushes a little harder.
I think many of us are traveling more after being cooped up for a spell. We are confident that
we will have a great produce season and that you will be happy to have joined us.
* Staff – As with most small and large businesses these days, it is very difficult to find reliable,
solid help who enjoy working hard. We are extremely fortunate to have a very wonderful team
of fun and dedicated interns at our farm this year. We could still use one more person for one,
two, or three months to round out our crew.
*Crops – Most of our spring and summer crops have been seeded, with a majority of them
already transplanted into the field. Presently we are finishing putting the mini tomatoes and
hot peppers into plastic, trying to stay ahead of the weeds/grass by hoeing, pulling or
mechanical cultivation, keeping a watchful eye on pests, and now harvesting for the share
boxes. It has been a gift to have timely rains so far to do the watering for us.
So for now all looks good and I will try to keep you well informed on the farming – come down
sometime and visit us!
~Farmer Norm
Crop of the week – Asparagus
Asparagus is an often celebrated vegetable with a rich history. An asparagus recipe is in one of the oldest surviving recipe collections, going back about 2,000 years. In Roman society, asparagus was considered a benefical herb and Emperor Augustus would say "faster than cooking asparagus" when saying something must be done quickly. Asparagus is a perennial spring vegetable native to Europe and parts of Asia. Slightly saline soils prove no problem for asparagus, so much so that it was tradition to salt asparagus fields to prevent weeds from growing.
Asparagus can come in green, purple, or white and is rich in dietary fiber, iron, potassium, vitamins C, E, K and more. While asparagus can be eaten raw in salads, it can also be stir fried, roasted, or pickled if you prefer a more tender texture. In French cuisine, it is popular to boil or steam asparagus and serve with a Hollandaise sauce, white sauce, melted butter, or even olive oil and Parmesan cheese. However you prepare your asparagus, we hope you enjoy!
~Farmer Kyle
Some Recipes To Try:
Preheat a grill to medium-high heat. Place a cooling rack upside down on the grill.

Toss the asparagus with 1/3 cup of the olive oil and some salt and pepper. Grill the asparagus, turning often to ensure even charring, about 5 minutes.

Add the Pecorino-Romano, lemon zest and juice and some salt and pepper to a bowl and mix to combine. Slowly whisk in the remaining 1/3 cup olive oil to form an emulsion.

Arrange the asparagus on a serving plater. Drizzle with the dressing and garnish with the pine nuts and more Pecorino.
In a small saucepan, melt butter. Add freshly chopped oregano and let simmer for a few minutes.

In a medium pot, at medium heat warm 2 tablespoons olive oil (no it will not reach smoke point).

After a 1-2 minutes add a few kernels of corn, once they start popping, add the rest and wait.

In 1-2 minutes all the corn will be popping. Once corn is popping less then every 2-3 seconds, remove the pot from the heat, drizzle with oregano butter and sprinkle with salt, mix and serve in a deep bowl.
In a small bowl, whisk together vinegar, mustard, sugar, salt and pepper. Gradually whisk in oil. (Dressing can be prepared to this point, covered and refrigerated for up to 2 days). Cover chopped sun-dried tomatoes (if using) with boiling water and let stand for 3 minutes, drain and add to dressing. Stir in oregano.