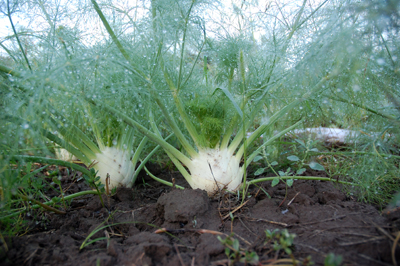 "By the way, there's no such thing as junk food; it's only food and not food."
– Chef Njathi Kabui
Summer Share Box 11 Crop List

Tomatoes – all shares
Sweet corn – all shares
Fennel – all shares
Purple beans – all shares
Zucchini/summer squash – all shares
Cucumbers – all shares
Eggplant – all shares
Iceberg lettuce – all shares
Radishes – single shares
Hot peppers – full shares
Red potatoes – full shares
Farmer Notes
Fennel is a great crop and is featured as our 'crop of the week'. It may be new to some of you, but try it with potatoes, in our recipes, or fresh in a salad.
The sweet corn is now from the 2nd planting – expect some ears to be not fully filled out on the top and some worms to be near the silk. This is normal when one does not use chemicals, but it is easy to cut the tip off and enjoy the sweet taste of the summer sun in the rest of the ear.
We are giving you what we got with the tomatoes – folks should receive orange minis or some of the slicers.
Purple beans turn green when they are cooked. They will also be in next week's box along with purple carrots.
The iceberg lettuce is a summer lettuce. I am not overly pleased with its performance and may not plant it again. There is more romaine lettuce still to come.
The cucumbers, summer squash, zucchini, and eggplant are definitely slowing down with the cooler nights and shorter days.
Eat well, be happy, and be kind to all.
Wash all of our produce and please return boxes and ice packs.

Looking Towards Fall
We can definitely notice the shorter days around the farm as we now wait for light to begin work in the morning and finish supper as darkness falls. The thermometer is responding in kind as it toys with the idea of slipping beneath the 50 degree mark tonight. Our experiment with having a third crop of basil this late in the season fell flat as it turned brown before reaching maturity. All of this is a simple reminder of what we already know too well – seasons change, time marches on, nothing stays the same.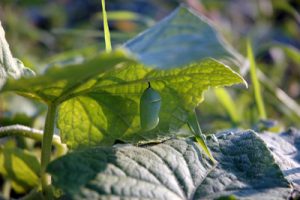 We have a great lineup of fall crops eager to make their way into a box coming your direction very soon! Our winter squashes look fantastic, as well as our fall Brassica roster of broccoli, red and green cabbage, cauliflower, kales, and kohlrabi. Our melons (watermelon, honeydew, and cantaloupe) will come your way in September and romaine, collards, scallions, napa, and choy will return for a box or two. Rutabaga, Brussels sprouts, leeks, and such love to sweeten after a frost and will be delivered in October.

A gentle reminder that the summer share's final delivery is October 18th. Our 3 bi-weekly deliveries of the Fall Share begin on October 25th. And our annual Harvest Gathering is on Saturday October 27th.
We are so happy that you decided to join us for this wonderful season of produce!
~Norm
Crop of the week: Fennel
Fennel is an aromatic flowering herb used in a wide variety of delicious meals and snacks. A member of the carrot family, it originally came from the Mediterranean region and is known as marathon in Greek. Fennel managed to make its way into our history books and popular lexicon after the famous Battle of Marathon between the Greeks and Persians took place in a small Greek town named for the surrounding field of fennel. In turn, the modern "marathon" race takes its name from the legendary run by the Greek herald Pheippides after the Battle of Marathon and has become a popular sporting event in the Summer Olympics and in cities all across the world.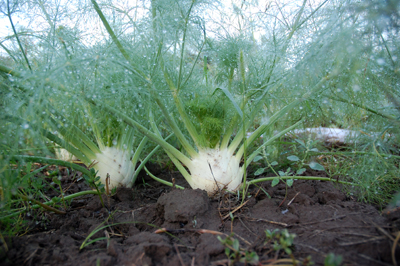 Nowadays, most fennel found in the U.S. is grown in California, where it grows naturally due to its fondness for dry coastal soils. There are two popular types of fennel: one that is treated primarily as an herb and one that is treated as a bulb vegetable. Here at Earth Dance we grow the bulbous fennel, also known as "Florence" fennel. It goes particularly well with seafood, especially salmon and scallops. The entire plant can be used for cooking, though each part has a unique flavor that lends itself to different uses.

The bulb of the fennel plant can be sliced or chopped to add a sweet licorice flavor to salads. In addition, it can be sauteed, braised, stewed, or grilled. If you don't plan on using the fully intact bulb in a dish it is often easiest to slice the bulb vertically and remove the base along with the hard core. Fennel stalks can be used just like celery, and are good additions to soups or stews. Use the fronds as a garnish or a fill-in for herbs like dill and parsley.
Some fennel recipes to try:

Toast panko in melted butter in a skillet over medium.

Stir together Greek yogurt, prepared horseradish, lemon juice, lemon zest, sugar, salt, and black pepper in a large bowl.

Add sliced cucumber, fennel, and bell pepper; toss to coat

Top with panko and chopped fresh dill.
Toss all of the ingredients and lay on a baking sheet. Roast at 425 degrees F until golden crisp, 35 to 40 minutes, tossing halfway through. Season with salt and drizzle with olive oil.
Caramelize the onions and fennel: Heat olive oil in a large skillet with a tight-fitting lid over medium-high. Add the fennel and onion and season with salt and pepper. Cook, stirring occasionally until mixture begins to brown, about 5 minutes. Reduce heat to medium, cover, and cook 5-7 minutes. Uncover, add 1 Tbsp water and cook, stirring constantly, until golden brown and soft, about 2 minutes

Prepare pizza dough (optional; can be replaced with store bought dough): Pour 1 cup warm water into a medium bowl; add sugar and sprinkle with year and let stand until foamy, 5 minutes. Whisk oil and 1 tsp salt into yeast mixture. Add flour and stir with a wooden spoon until liquid is incorporated (dough will appear dry). Turn out onto a floured work surface. Knead until dough comes together in an elastic ball, 2 minutes. Transfer to an oiled medium bowl; brush lightly with oil. Cover bowl with plastic wrap; set in a warm, draft-free place until dough has doubled in bulk, 45 minutes. Punch down dough and cover; let rise another 30 minutes. Turn out dough into a lightly floured work surface. Divide into 4 equal pieces and let rest for 15 minutes before using.

Heat up a grill on medium-high heat.

On a foured surface, stretch the pizza dough into a 10-inch long oval or other desired shape. Brush one side lightly with olive oil and season with salt and pepper.

Place the dough, oiled side down, directly on the grill. Brush the top with olive oil and cook until underside is lightly charred and bubbles form all over top, 1 to 2 minutes. With tongs, flip dough and cook until lightly charred, 1 to 2 minutes. Slide dough to cooler side of grill.

Top with cheese and fennel fronds; cover grill. Cook until cheese melts and toppings are heated through, 2 to 5 minutes.
Preheat oven to 450 degrees F.

Trim the fennel bulbs and split lengthwise. Boil until tender, about 15 minutes. Drain, cut side down, on paper towels for about 5 minutes.

Place fennel, cut side up, in a buttered baking dish and brush with the softened butter. Season with the salt and pepper and top with thyme and grated Parmesan. Bake until cheese is golden brown, about 20 minutes