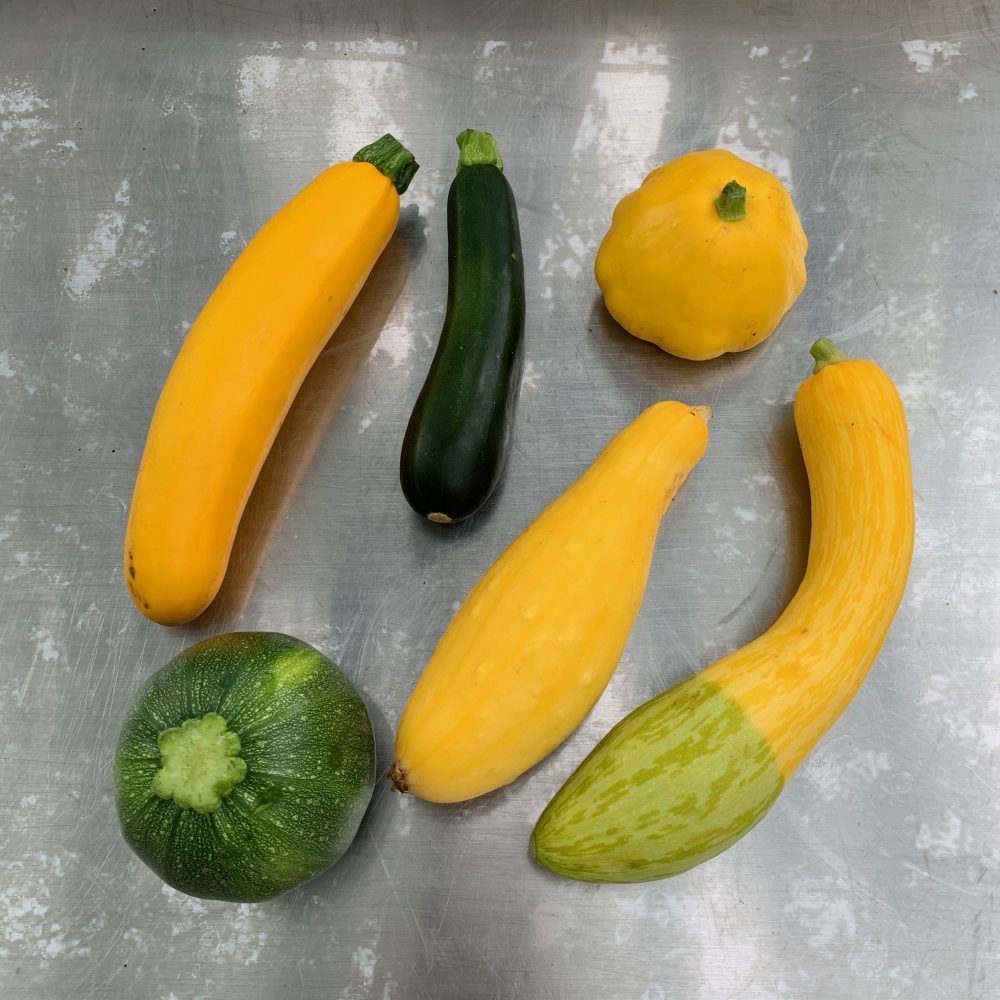 "When the resistance is gone, the demons are gone."
~Pema Chodrin
Summer Share Box 5 Crop List
Clockwise starting with the summer squash:
Summer Squash/Zucchini – All shares
Green Cabbage – All shares
Swiss chard – Full shares
Shell Peas – All shares
Raspberries – Single shares; Rochester/Austin/Chatfield/Racine Full and Half shares
Parsley – All shares
Basil – Full and Half shares
Napa Cabbage – Full and Single shares
Scallions – All shares
Cauliflower – All shares
Romaine Lettuce – All shares
Kohlrabi – All shares
Farmer Notes
Next weekend July 26-28 is our annual 'camping weekend' on the farm.  Come for one night or 2, or just come down for a farm visit – more in our farm article.
The heat-loving summer crops like tomatoes, peppers, cucumbers, eggplant and sweet corn are loving these hot and humid days.
Cauliflower is a very versatile vegetable that is getting more and more recognition.  Use it for pizza crust, roast it, mix it in stir fry, puree it into a soup, pulse it to make 'rice', steam and whip it up like mashed potatoes, or use it raw in a cold salad.
Lots of veggies this week for kimchi (see recipe below):  cabbage, napa, kohlrabi, scallions.
Fresh scallions can be chopped thinly and used in about any cold or hot dish.
These hot days are great for salads, slaw, chimichurri (see recipe below), kimchi, or tossing the kohlrabi fries/summer squash/cauliflower/scallions on the grill!
Check out our article and recipes for summer squash/zucchini.
Wash all of the produce before you eat it.
Please return our ice packs and boxes each week.
We hope everyone is having a fantastic summer!
One of the pillars of the Community Supported Agriculture model is that folks who eat the produce – you, the members – have the chance to get to know the people and the land that produces some of your food.  It is no small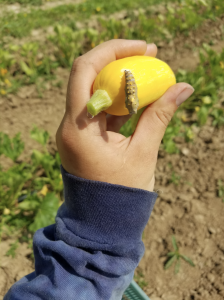 thing really, given the food distribution system that most of us are accustomed to. And we your farmers certainly recognize and appreciate our responsibility to be transparent and available to our members.  We do some of that through our online presence, our newsletters, and, of course, the weekly food that we deliver to your neighborhood.
Another attempt to build connections is to open our farm up for family and group visits, and to offer events to 'lure' members out to visit us.  Here are a few things that we are offering for this season:
Camping on the farm – July 26-28.  You can come for one night or two, or just come down to tour the farm. You can mix it into a day at Lanesboro, a trip to Forestville for hiking/caving, biking the Root River trail or a visit to the destination town of Decorah.  We have shower/bathroom facilities, a large lawn for games, a campfire, and plenty of fresh produce for grilling!  Please rsvp.
Member work opportunity – Friday August 9th. This is fairly open-ended, but is designed to get families out into the fields to get their hands dirty.  We usually share an outdoor lunch.  Come as you are able and stay as long as you desire … maybe tear up the town of Rochester that evening, HA!
Summer Farm Party is a new twist on our usual Fall Harvest Celebration – Saturday September 7thanytime between 2-8.  This year we are centering it around tomatoes as we will be canning tomatoes/salsa and will be having a spaghetti dinner. There will also be farm tours, crafts, lawn games, tractor rides, bonfire, and whatever you decide to bring along to drink.   Feel free to bring a tent along and stay the night!  Definitely get this one on your calendars!
We are your farmers.  You are members of Earth Dance Farm. We want to celebrate this connection – we would love to have you join us!!!  Do not hesitate to contact us for more information on any of these events.
~Norm
Crop of the week – Summer Squash/Zucchini
The summer squash has come into season on the farm and boy are they busy pumping out squash for all of you! You could sit out in the fields and watch them grow!
Squashes are part of the Cucurbita genus of herbaceous vines which also includes pumpkins and gourds. Summer squash is distinguished from winter squash because they are harvested when they are immature and the rinds are still tender and edible (winter squash have harder rinds that are generally not eaten). Summer squash are considered to be parthenocarpic, which means that some cultivars are able to fruit without being pollinated. The vegetable is high in
vitamins A, B6, and C, folate, magnesium, fiber, riboflavin, phosphorus, and potassium. Yellow squash is also rich in manganese, which boosts bone strength and helps the body processes fats and carbs.
We grow a variety of summer squash on the farm, including the familiar zucchini, patty pan – which looks kinda like a flying saucer, crookneck – a yellow, bumpy squash named for its bulbous bottom and thin, curved neck, Zephyr – easily recognized by its two-toned coloring: light green on the bottom and yellow on top, eight ball zucchini – very similar to zucchini in flavor and texture but in ball form, and last but not least: yellow squash, true to its name.
Summer squash are the perfect accompaniment to any cookout and can be grilled up, sautéed, made into fritters (see the recipe below), zoodles, bread, soups, oven-baked or just eaten raw. We hope you enjoy the season of this bright, tender vegetable!
Your farmer,
Emma
Some recipes to try:
Native to Argentina, chimichurri is an easy to prepare sauce that intensifies with age. The freshly chopped parsley and garlic, combined with the red wine vinegar, is what gives this cause its unique and tangy flavor, several variations of the recipes can include cilantro, chiles, or lemons. Chimichurri will enliven a dish of roasted vegetables, baked potatoes, scrambled eggs, and tastes great drizzled over smoky grilled meats. 
In a medium bowl, combine all the ingredients. Less oil can be used for a chunkier texture, or more oil for a looser one.

Pour sauce into a jar, cover, and let stand at room temperature overnight before refrigerating.

A well-aged chimichurri has a deep green color bursting with flavor and spice. The sauce can be used after a few days or let to age in the fridge for up to two weeks.
Toss zucchini and salt together in a large colander and place in sink to drain for 10 minutes.

Put zucchini in the middle of a piece of cheesecloth or clean towel; wrap cheesecloth around zucchini and squeeze to drain as much moisture from zucchini as possible.

Mix flour, Parmesan cheese, egg, garlic, kosher salt, and pepper together in a large bowl. Stir in zucchini.

Heat olive oil in a large skillet over medium-high heat.

Scoop batter by the tablespoon into the hot skillet and fry until golden brown, about 2 minutes per side.
Reserve 1-2 outer leaves of the napa cabbage and refrigerate for later use (wrap in plastic). Cut remaining cabbage and place it in a bowl with the salt and toss. Add enough cool water to cover the cabbage and stir until salt is dissolved. Keep the cabbage submerged with a plate over the bowl and let stand at room temperature 6-8 hours (giving a stir midway through if possible) or overnight.

Drain the cabbage, saving the brine. Rinse cabbage, drain, squeeze out any excess water and place it back in the bowl, adding the daikon radish and scallions.

Place the ginger, garlic, shallot, red pepper flakes, fish sauce (or alternatives) and sugar in your food processor. Process until well combined, pulsing, until it becomes a paste. Scoop over the cabbage and using tongs or gloves, mix and massage the vegetables and the red pepper mixture together really well, until well coated. Pack the cabbage into a large quart glass jar or a crock, leaving 1-2 inches room at the top for juices to release. Add a little of the reserved brine to just cover the vegetables, pressing them down a bit. Place the whole cabbage leaf over top, pressing down - this should help keep the kimchi submerged under the brine. You can also use a fermentation weight placed over top the whole leaf to keep it submerged.

Cover loosely with a lid (allowing air to escape) and place the jar in a baking dish (or big bowl) to collect any juices that may escape.

Leave on the counter for 3 days, then store in a sealed jar in the refrigerator where it will continue to ferment. You can press down on the kimchi daily with the back of a wooden spoon to keep it submerged.

After 3 days, the kimchi is ready, but won't achieve its full flavor and complexity, until about 2 weeks (in the fridge) slowly fermenting. The longer you ferment, the more complex and sour the taste.

This will keep for months on end in the fridge (as long as it is submerged in the brine) and will continue to ferment very slowly, getting more and more flavorful.

To serve it in a bowl as a side dish, scoop out using a slotted spoon, drizzle with sesame oil, toasted sesame seeds, and fresh scallions.