"The fullness of life is only accessible
in the present moment."
~Eckhart Tolle
Summer Share Box 9 Crop List
Sweet Corn – All Shares
Red Potatoes – All Shares
Cabbage – Full & Single Shares
Summer Squash – All Shares
Zucchini – Full & Single Shares
Cucumbers – All Shares
Eggplant – Full Shares
Sugar Snap Peas – Full Shares
Kale – Single Shares
Melon – Half Shares
Mini Tomatoes – All Shares
Slicing Tomatoes – All Shares
Beaver Dam Peppers – Single Shares
Cayenne and/or Jalepeno and/or Hot Wax – Full & Half Shares
Thyme – Full & Single Shares
Dill – Half Shares
Farmer's Notes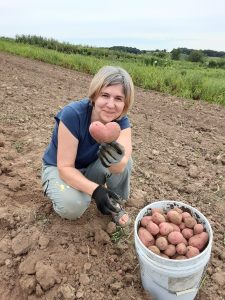 *We are looking for someone to work with us here at Earth Dance Farm after Labor Day – let us know if you know someone with interest
*Week nine already means we are half-way through the Summer CSA!!  I hope that you are enjoying the crops and how they change from season to season.  We are definitely into summer now with tomatoes, peppers, melons, sweet corn and such.
*Lots of tomatoes coming on the vine.  I am open to sell bulk tomatoes for canning  in 1/2 bushel($20) or full bushel($35) any of the next 4 weeks.  I can only sell about 5 bushel per week, so let me know what size and what week works best for you. Pay through our website using the miscellaneous option
*We only squeaked out a 1/4″ of rain last weekend, so still irrigating 24/7.  I know some of you in the T.C. and my family in Iowa had severe storms.
*Cucumbers are feeling the lack of rain.  You should probably peel the skin as it is more thick and bitter.  Also the fruits are more misshapen as the plant ages.
*Thyme and dill are both great with potatoes
*Sweet corn can be grilled, microwaved, or boiled.  More coming for next week
*Purple and red cayenne peppers are moderately hot
*All done with cabbage for awhile and with peas until next season
*Please wash your produce and always return our boxes/ice packs
"Don't just do something, sit there."  This little twist by Thich Naht Hahn on a much more familiar phrase calls me to slow down, reflect, and be more intentional in my living.  It is really hard!!  I get up in the morning and look at my list from the night before, then I make a new list and prioritize each task.  I never get those lists completed – you know what I mean.  This farm has so many turns and angles and corners to peak around that it is certainly impossible to 'be on top of it all.'  Right now, as the rain continues to skirt around us, two summer interns return to college, and we plant for fall/winter and harvest all the summer bounty, I long for the winter evenings by our wood stove where I can indeed sit and meditate.
The last words I heard from my mother back in February were, "Are you guys still here, don't you have some work to do or something."  This was in the context of 5 of us sons visiting at her bedside as she came in and out of sleep.  In many ways this work, this doing, is about me; about me being in control and me feeling good about being responsible and accomplishing things.  This, in balance, is a productive way to have purpose and to give back to the world.  But it is this balance of work and non-work that is key, and what I will always strive for to find joy and fulfillment.
I hope some of you are getting away a bit with your loved ones to relax and enjoy one another!
~Norm
Crop of the Week: Sweet Corn
I swear I joined this farm for one thing and one thing only… well two things: tomatoes and sweet corn. My favorite season is finally upon us!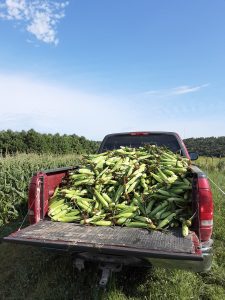 This week we will be featuring corn. Developed over 7,000 years ago from teosinte, a wild grass native to central Mexico, corn has been on this continent for ages. Particularly in the midwest, it seems like it grows everywhere. However, the miles and miles of corn we drive by to go literally anywhere is mostly field corn, not sweet corn. Field corn, a grain, is harvested at the dent stage when its kernels are dry and fully matured whereas sweet corn is picked immaturely and eaten as a vegetable. Although very different in taste and use, the two types are related. Sweet corn is a genetic mutation of field corn that was first identified and grown by multiple Native American tribes. Today, sweet corn's popularity has been furthered by hybridization which makes the crop more disease resistant and helps it mature uniformly. I find it so satisfying to watch sweet corn seedlings come up because they all germinate and grow at exactly the same rate.
Sweet corn can be boiled, grilled, or steamed. It pairs great with beans because each food provides the essential amino acids that the other is deficient in, leading to a complete protein dish. Enjoy!
~Farmer Ana
Some recipes to try:
Instructions
FOR THE CORN: Preheat your grill to low. Peel off the husk, strip away all the silk and place the corn on grill grates. Turn once and grill until bright yellow and kernels are tender. Increase the heat to medium-high and continue to grill until a few kernels char. Charring the corn is totally optional.

Combine all ingredients into a large bowl, cover and refrigerate until ready to serve.

Toss once more before serving. Serve with tortilla chips or on tacos, enjoy!
Preheat oven to 325 degrees F. Place oven rack in the center of the oven. Generously spray two 8.5-inch loaf pans with cooking spray and coat evenly with flour to prevent sticking.

In a large mixing bowl, add melted butter, white sugar, lemon zest, lemon juice, almond and vanilla extract and cream together until fluffy and light in color.

Add the eggs, one at a time, and mix until fully incorporated before adding another.

Evenly sprinkle the salt, baking soda, and baking powder over the top of the mixture and mix well.

Add the flour ½ cup at a time and mix entirely between additions.

With a rubber spatula, gently fold in the summer squash and poppy seeds.

Divide the batter evenly between the two prepared loaf pans.

Bake at 325 degrees F for 60-65 minutes or until a skewer inserted into the middle of the loaf comes out clean. Be careful not to check the loaves early or you may cause them to sink slightly in the middle.

Place loaves on cooling rack to cool 5-10 minutes before carefully removing from the loaf pans to cool completely (about an hour). One of our interns made this for dessert and it was sooo delicious, I just had to put it in the newsletter!

Store covered well for about three days or loaves can be frozen. To freeze loaves, cool completely and then pack into gallon freezer bags and seal. Best if frozen the same day as baked.