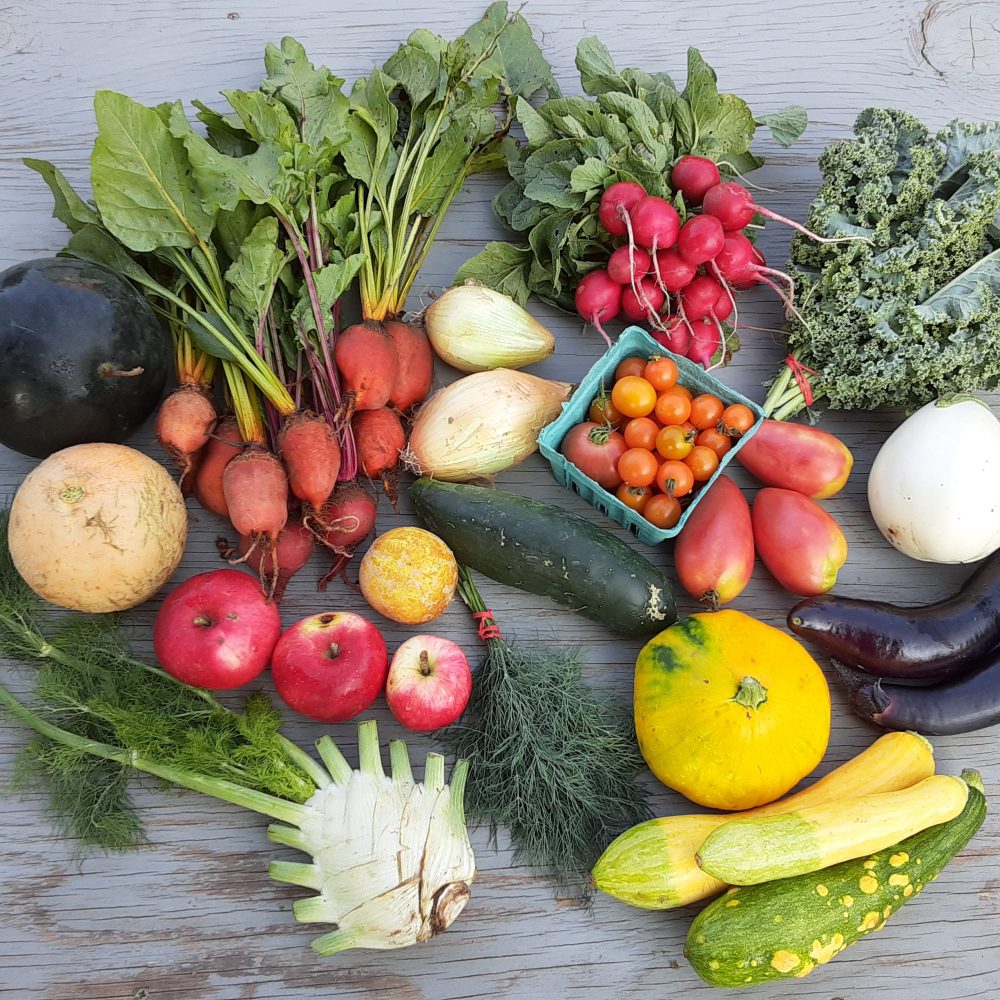 "The older I get, the younger are my teachers."
~Robert Frost~
Summer Share Box 11 Crop List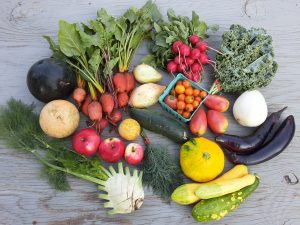 Melons (Cantaloupe & Watermelon) – All Shares
Summer Squash/Zucchini – All Shares
Fennel – All Shares
Radishes – All Shares
Kale – All Shares
Mini Tomatoes – All Shares
Slicing Tomatoes – All Shares
Tulsi Basil (not pictured) – All Shares
Apples – Half Shares Only
Eggplant – Full & Half Shares Only
Onions – Full & Single Shares Only
Cucumbers – Full Shares Only
Dill – Full Shares Only
Beets – Full Shares Only
Farmer's Notes
*Tulsi, or Holy, basil is primarily medicinal – used in teas to lower anxiety and to help with asthma and arthritis.  It also smells delicious and adds a peppery freshness to a stir fry or soup
*Radishes are so bright red, crisp, with a slight bite of pepper – so refreshing on these hot days
*Enjoy the melons – it was a quick season for them as we had gophers eating many of the watermelons
*Eggplant is really coming on since last weekend's rain – they are great to slice thin and grill
*Fennel will be coming in the next few boxes.  It does not seem to be a fan favorite, but I challenge each of you to do it justice this year and try some new recipes.  Next week it will go well with the potatoes
*The full shares get the final cucumbers(not pretty) and a bunch of dill to go with them – make a cucumber/dill salad or dressing
*Tomatoes, tomatoes, tomatoes – just relax, eat one, savor it, let the summer sun bring you joy!
*Onions are a Aisla Craig sweet onion – they will not store well so eat them right up
*Should have some more sweet corn, purple beans, and collard greens for next week
*Enjoy these last days of August!!!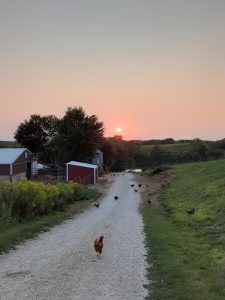 I want to let you all know that we received about an inch of rain last Friday/Saturday and it was delicious and sweet.  Boy did we need it.  We have had a very dry July and August and it is such a relief to have some decent rain hit the ground after many misses.  We have another good chance of some rain this Thursday night.  The crops have really responded and things are looking spectacular right now.  We have many of our fall crops in the ground now, and more planting will continue until mid September or so.  Our Fall Produce Shares are now sold out, so we are excited to be producing lots of tasty vegetables for those 5 bi-weekly deliveries.
Things are also changing with our work crew as 2 summer workers have returned to college and 2 new ones have just joined us.  It is usual for us to have this turnover at this time even though we are in the middle of our summer produce deliveries and still 2 months out until our first Fall Share box.
After a very hot week of work here on the farm, the thought of cooler Autumn weather is mighty appealing – dang the days are sure getting shorter already.
Be good and share the love~
Farmer Norm
Crop of the Week: Tomatoes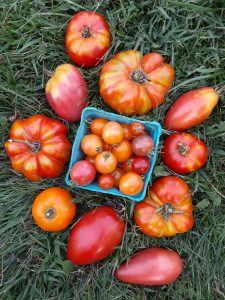 Tomatoes are one of the most commonly grown fruits in America, both known for their wide variety of uses and ease to grow.  The ancestors of the crop originated in South and Central America and is believed to have been domesticated first by the indigenous people of Mexico. Not long after the first settlers landed in modern day Mexico the tomato was taken back overseas to Spain and from there, spread to other European colonies and settlements in other parts of the world during the 16th century.
Here at the farm we are growing quite a few different types of grape and slicer tomatoes. The slicer tomatoes are the bigger variety which include the more traditional round red, the more elongated Sheboygan tomato, and a bright yellow round type. These would be the fruits used mainly for cooking, juicing, or for sandwich making. These tomatoes will readily ripen of the vine if you happen to receive one or two that are not as red or soft as you desire. We have an even greater variety of grape tomatoes growing in multiple shapes and sizes. The more tangy, exotic ones are short, stubby and yellow like a fingerling potato while a slightly bigger, purple and green striped type are more round. All of our grape tomatoes, you may have realized, are noticeably sweeter than their store bought counterparts and taste great raw whole or sliced into your favorite dish. It is best to NOT refrigerate your tomatoes as chilling them is known to reduce the flavor. They store best at room temperature and out of direct sunlight.
We hope you have been enjoying them!
~Farmer Josh
Some recipes to try:
Caramelize the onions and fennel: Heat olive oil in a large skillet with a tight-fitting lid over medium-high. Add the fennel and onion and season with salt and pepper. Cook, stirring occasionally until mixture begins to brown, about 5 minutes. Reduce heat to medium, cover, and cook 5-7 minutes. Uncover, add 1 Tbsp water and cook, stirring constantly, until golden brown and soft, about 2 minutes

Prepare pizza dough (optional; can be replaced with store bought dough): Pour 1 cup warm water into a medium bowl; add sugar and sprinkle with year and let stand until foamy, 5 minutes. Whisk oil and 1 tsp salt into yeast mixture. Add flour and stir with a wooden spoon until liquid is incorporated (dough will appear dry). Turn out onto a floured work surface. Knead until dough comes together in an elastic ball, 2 minutes. Transfer to an oiled medium bowl; brush lightly with oil. Cover bowl with plastic wrap; set in a warm, draft-free place until dough has doubled in bulk, 45 minutes. Punch down dough and cover; let rise another 30 minutes. Turn out dough into a lightly floured work surface. Divide into 4 equal pieces and let rest for 15 minutes before using.

Heat up a grill on medium-high heat.

On a foured surface, stretch the pizza dough into a 10-inch long oval or other desired shape. Brush one side lightly with olive oil and season with salt and pepper.

Place the dough, oiled side down, directly on the grill. Brush the top with olive oil and cook until underside is lightly charred and bubbles form all over top, 1 to 2 minutes. With tongs, flip dough and cook until lightly charred, 1 to 2 minutes. Slide dough to cooler side of grill.

Top with cheese and fennel fronds; cover grill. Cook until cheese melts and toppings are heated through, 2 to 5 minutes.
Whisk together oil, lemon juice, and mustard and season with salt and pepper.

Toss dressing with fennel bulb and radishes and adjust seasoning if necessary. Top with Parmesan and fennel fronds.
Place radishes in a large skillet and add just enough cold water to cover, about 2.5 cups. Add butter sugar salt and pepper and bring to a boil.

Reduce heat to medium-low. Simmer until radishes are tender and liquid is reduced to a glaze.

If radishes are tender before liquid is a glaze, remove radishes and continue reducing the liquid. Serve with glaze over radishes.