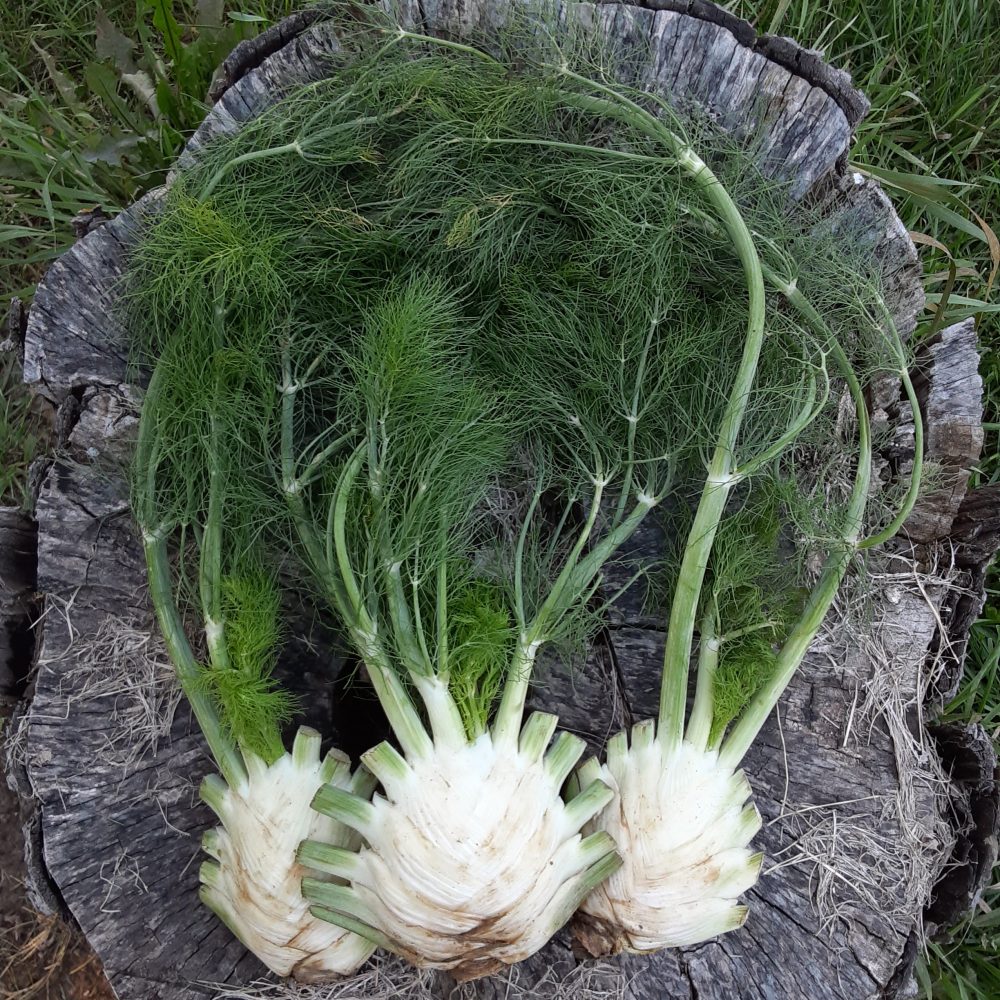 "Democracy is not a spectator sport. Make your voice heard – 
vote this election cycle!!"
~Norm the Farmer
Summer Share Box 12 Crop List
Sweet Corn – All Shares
Squash/Zucchini – All Shares
Potatoes – All Shares
Sweet Onions – All Shares
Mini Tomatoes – All Shares
Slicing Tomatoes – All Shares
Fennel – All Shares
Peppers – All Shares
Cilantro – All Shares
Lemon Basil – All Shares (not pictured)
Collard Greens – Full & Single Shares Only
Eggplant – Full & Single Shares Only
Radishes – Full Shares Only
Dill – Single Shares Only
Farmer's Notes
*More than 50% of the sweet corn cobs have a worm at the tip – best to just cut an inch or two off before you ever shuck it
*We received another inch of rain last weekend so we are looking just fine in that department now
*Roast some fennel with your potatoes
*Onions, tomatoes, peppers, cilantro and corn all mix up swell with some good old chips … now I didn't have to tell you that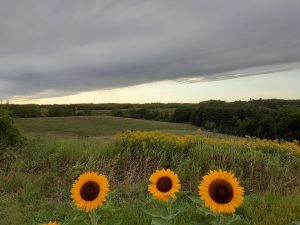 *Summer squash always comes to a close right as the winter squash is getting ready to kick in
*We should have a couple more weeks of tomatoes yet
*Next week we are supposed to see some 30's already – too early for that!
*Maybe those purple beans will decide to show up in next week's box
*Our winter shares have now been sold out
*Please continue to return our ice packs and waxed boxes each week – thank you
Welcome to September everyone!  September is my favorite month of the year.  The days begin to shorten and the air begins to cool and my blood begins to slow a bit.  I can breathe more easily and more intentionally as the high heat of mid summer begins to ebb.  It seems to be the natural flow of things and I certainly feel it too.  Here on the farm we have less planting to do, fewer beds to weed, and usually less irrigation to worry about.  Our main focus is on harvesting and the storage of many of our fall crops.  We butchered 25 meat chickens last weekend and next weekend I have 4 siblings coming up to smoke peppers, make salsa and can tomatoes.  It is always good for the soul to bring in the fruits of our labors and process it to nourish our bodies through the winter.  We will miss not having our Fall farm gathering this year now, but we trust that you are enjoying all the produce and doing your best to stay healthy.
We wish you a wonderful and fun Labor Day weekend.
~Farmer Norm
Crop of the Week: Fennel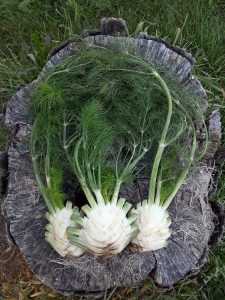 This week for our crop of the week we bring you the one and only, the marvelous, Fennel! This aromatic plant species belongs to the carrot family, to my surprise, and can be a hardy perennial in warmer regions of the world. It is indigenous to the shores of the Mediterranean Sea, however it has now naturalized in many other parts of the world, especially on dry soils near the sea-coast and on riverbanks, and has even made its way here to rural Minnesota at Earth Dance Farm(as an annual though of course)! Although Fennel is best known for its herbal uses, there are many other ways to make use of this unique crop. It has a bulb with stalks that extend upward and produce fronds on the ends. Later down the line yellow flowers will develop and eventually turn to seed. The seeds and fronds are the more commonly used parts of the plant; the seeds being used often in meatballs or Italian sausages and the fronds being used as a garnish in a number of dishes and is actually one of the primary ingredients in absinthe. Both of these parts have a flavor that resembles star anise, giving a licorice undertone. Then we have the bulb which is very fresh and crisp with lighter tones of the licorice flavor. The outside of the bulb is a little tough so it is best to peel the outer layers off and use the inner heart for a more tender bite. This part can be prepared many different ways but a few examples for you would be grilling it up, roasting it, or shaving it raw into a salad. Whatever it will be, I challenge you to use both the bulb and the frills! We hope you have fun with it and enjoy!!
~Farmer Vanessa
Some recipes to try:
Using a very sharp knife, cut the top and bottom from the fennel bulbs and then remove tough or bruised outer layers. You will end up with a bulb about the size of your fist.

Slice the bulbs in half and then remove the cores from the fennel. Then cut the fennel lengthwise into 1/8 inch slices (it is ok if a little thicker).

Heat a large skillet or sauté pan over medium-high heat. When hot, add the olive oil and then the fennel slices. Spread the fennel out in the pan to encourage browning.

Cook for 10-12 minutes, flipping the fennel slices every few minutes, until golden brown.

Remove the fennel from the pan and drain off any excess oil. Season with salt, pepper and lemon juice, to taste. Serve.
Toss potato wedges, fennel, onion, garlic, sage, olive oil, and salt and pepper in a bowl. Make sure everything is coated well with the olive oil. Spread it all out onto a baking sheet and roast at 425 degrees until golden and crisp, about 35-45 minutes, tossing halfway through. Once finished, season with more salt and drizzle with a little more olive oil, if desired.
Preheat oven to 275 F for a metal pan or 350 F for glass.

Roll out pastry dough and transfer to a 9-inch quiche dish or pie pan. Ease dough onto bottom and sides; prick the bottom and sides with a fork.

Partially bake until the crust just starts to get some color, about 12-15 minutes. Let cool slightly.

While the crust is baking, in a large bowl beat the eggs and half and half lightly. Add salt, pepper, marjoram, onion, green pepper, mushrooms, and collard greens. Set aside.

In a small bowl, mix cheeses together. Sprinkle half the cheese onto the piecrust and add the remaining cheese to the egg mixture.

Add the egg mixture to the piecrust; top with more cheese if desired.

Bake until a knife can be inserted near the center and come out clean, about 45-60 minutes. Let sit 10 minutes before cutting into wedges.
Quiches are one of those dishes that are super customizable. Don't like green peppers? Leave them out. Have extra tomatoes or spinach in the fridge? Add them! Bacon or ham are also great additions. Add your own favorite spices and cheeses too, or whatever you have on hand.
Heat a large frying pan to medium-high heat. Add the oil, water, onions, peppers and potatoes and sauté for 7 mins.

Mix in the chopped tomatoes, water, cinnamon, smoked paprika, honey, salt and pepper. Bring to the boil and reduce heat to low and cook for 20 mins till the tomato sauce is thickened.

Do keep an eye on the mix during cooking as you may need to add a tbsp or two of water so that the tomato mix has a passata type consistency. Adjust the seasoning.

Break the four eggs on top of the tomato sauce and cook for about 10 mins until the eggs are just set, or longer if you prefer your eggs cooked harder.

Top the Shakshuka with your chopped herbs. This dish pairs well with crusty bread.