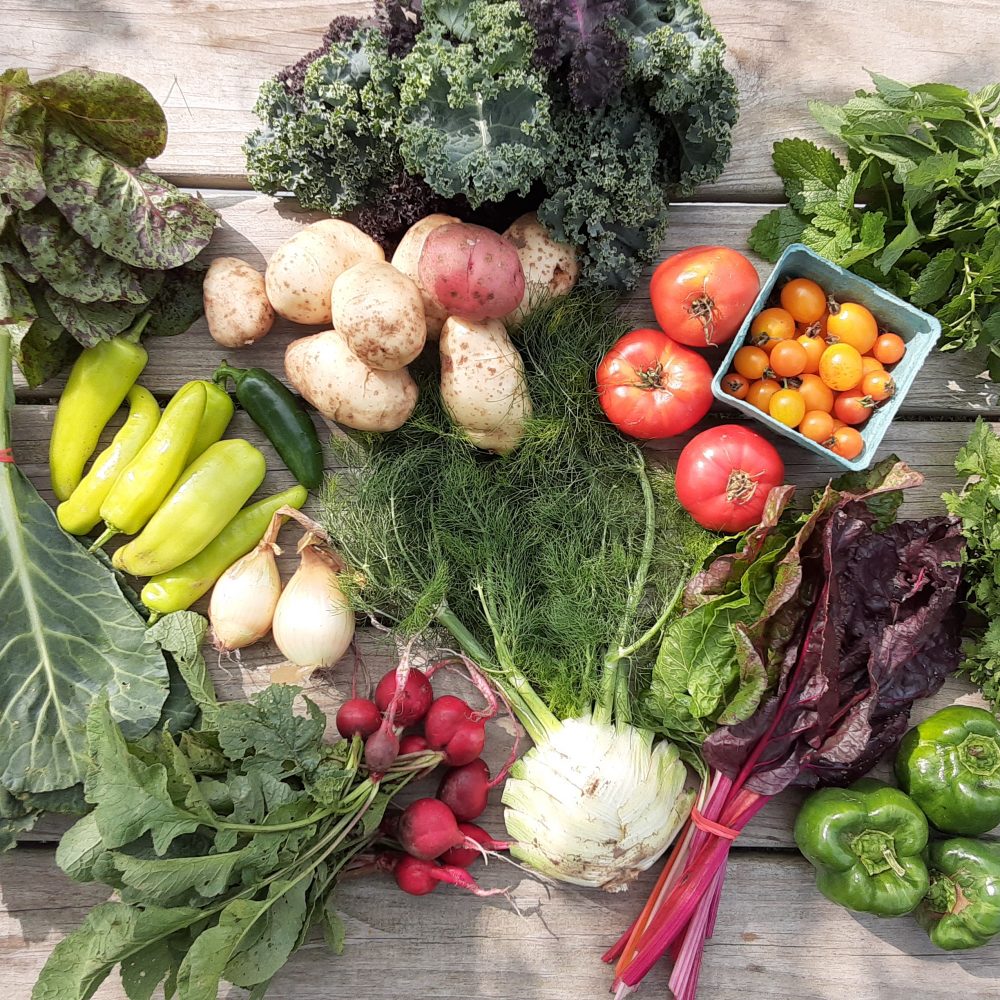 "The world as we have created it is a process of our thinking.
It cannot be changed without changing our thinking."
Albert Einstein
Summer Share Box 14 Crop List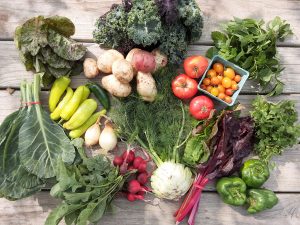 Potatoes – All Shares
Collard Greens – All Shares
Swiss Chard – All Shares
Onions – All Shares
Hot Peppers (Hot Wax & Jalepeno) – All Shares
Radishes – Full & Single Shares Only
Kale – Full & Single Shares Only
Slicing Tomatoes – Full & Single Shares Only
Lemon Balm – Full & Half Shares Only
Lettuce – Full Shares Only
Bell Pepper – Full Shares Only
Fennel – Half Shares Only
Mini Tomatoes – Half Shares Only
Cilantro – Single Shares Only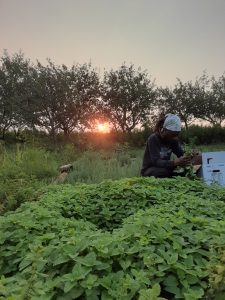 Farmer's Notes
*We had a very cold and wet week last week so there was not much growing going on – green beans and eggplant and bell peppers just sat there.
*We are nearing the end of our tomatoes with some slicers for the full shares yet next week
*Potatoes are now a white baking potato called Cascade. We had French fries tonight and the trick is to soak the fries in ice cold water for hours before baking to remove some of the starch
*The hot peppers are a jalapeno and the yellow hot wax both with medium to high heat
*We will return to the Green Forest romaine lettuce here now for the cooler weather beginning in box 16
*Lemon Balm is a new crop for us-it is primarily used for tea but can also be made into a pesto(recipe down below). Get creative with it!
*The Swiss Chard may have to rest in some ice water to be refreshed
*Fennel to the half shares is the rest of it for this season
*We will begin delivering winter squashes beginning next week
*Thank you for returning our ice packs and boxes each week
Farm Article
Is anyone getting tired of the weekly produce yet?  This week is the #14 box and there are 4 more to go.  I know that some of you are new to CSA this year, and perhaps joined because of the Covid -19 pandemic.  Let me tell you that it takes a few years to create a system that works for you:  it begins with choosing the correct size box that fits your household, learning to navigate the contents of the box each week, using or processing the produce so that you do not waste too much.  The hope is that a new habit is slowly forming – that buying and preparing fresh produce is something that you want and even crave.  The taste of fresh local produce, grown and delivered in season, becomes the norm.  It is healthy and it grounds you to mother earth – taste it, feel it, live it!
Thank you for letting us grow some of your food,
~Norm the Farmer
Crop of the Week: Swiss Chard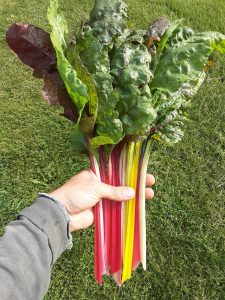 Swiss chard is a colorful, leafy green in the same family as beets. Some of its other names include Silver Beet, Beet Spinach, and Leaf Beet. Chard is believed to have been first described by Carl Linnaeus in 1753. It is not known why the crop is actually called "swiss" chard since the plant is coastal in origin, however, it is used traditionally in Swiss cuisine.
 Here at Earth Dance Farm we grow rainbow chard which is actually a seed mixture of different varieties. Both the stem and the leaves are used for cooking although it is recommended to cook the stems to remove any bitter taste that may be present. The leaves may be eaten cooked or raw and will happily take the place of leafy greens like spinach in dishes. The vibrant green leaves are highly nutritious. Just a 100 gram serving is known to contain around 122%DV of Vitamin A, 1038%DV of Vitamin K, and 50%DV of vitamin C. Data also shows significant levels of vitamin E and dietary minerals such as magnesium, iron, and Potassium. It should be noted that these values drop by OVER HALF when cooked! Try your best to not over cook them!
~Farmer Joshua
Some recipes to try:
Heat oil in a large skillet over medium heat. Add garlic and red-pepper flakes; cook until tender, about 1 minute. Add collard greens and cook, stirring, until tender, about 5 minutes. Remove from heat; stir in pine nuts and lemon zest and juice. Season with salt.

Meanwhile, cook spaghetti in a pot of boiling salted water until al dente, according to package instructions. Reserve 1 cup pasta water; drain pasta.

Add pasta and reserved water to skillet, tossing to coat. Serve immediately, garnished with lemon zest and sprinkled with cheese.
Place all ingredients in a food processor and pulse until smooth.

Add salt and pepper to taste.

Store in an airtight container for up to one week in the refrigerator or 3 months in the freezer.
Heat oil in a large pot over medium-high heat. Add bacon, and cook until crisp. Remove bacon from pan, crumble and return to the pan. Add onion, and cook until tender, about 5 minutes. Add garlic, and cook until just fragrant. Add collard greens, and fry until they start to wilt. Pour in chicken broth, and season with salt, pepper, and red pepper flakes. Reduce heat to low, cover, and simmer for 45 minutes, or until greens are tender.
Add the oil to a large saute pan with the garlic and red pepper flakes. Cook over medium heat until the garlic turns golden. Remove the garlic and discard. Add the chopped Swiss chard ribs and sautee until soft, about 4 minutes. Add the Swiss chard leaves and season with salt, to taste. Cook until the leaves are wilted. Stir in a splash of red wine vinegar. Serve immediately.