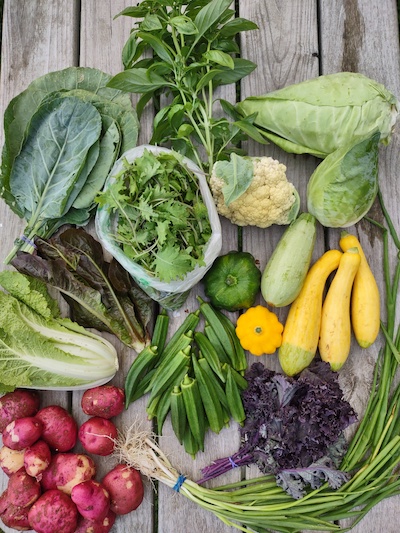 "There can be no leadership when there is no team."
~Jocko Willink
Summer Share Box 6 Crop List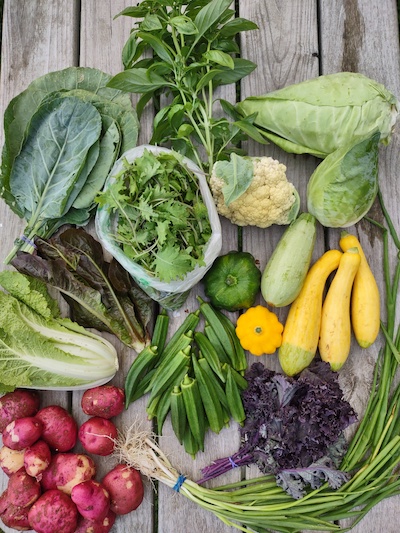 New Red Potatoes – All Shares
Summer Squash – All Shares
Cone Cabbage – All Shares
Napa Cabbage – All Shares
Baby Red Kale – All Shares
Scallions – All Shares
Basil – All Shares
Red Kale – Full & Half Shares
Cauliflower – Full & Flex Shares
Okra – Flex Shares
Red Romaine – Full Shares
Collard Greens – Full Shares
Farmer's Notes
*We have a great crop of both Red Norland and white Cascade potatoes this year.  The red potatoes mature more quickly so you may see them in your box for the next several weeks.  They are wonderful for potato salad, in soups etc.  These are new (uncured) potatoes so eat them straight away.  Some areas of the field have more scab (common tuber disease) so go ahead and peel them if you need to, though scab is not harmful in any way. You will also notice that the skin peels off very easily and already has quite a bit – that is pretty normal for these potatoes and they are still perfectly fine to eat.
*Cucumbers and green beans should finally be ready for next week – see my farm article
*2 cone cabbages gives you the opportunity to make sauerkraut  – see info. in our recipes section of the newsletter
*Baby red kale is gorgeous and can be eaten as/in a salad or sauteed
*The Napa cabbage and the collard greens are beginning to show the effects of the drought and their length in the field – Josh used Napa as a vegetable wrap for dinner on Monday
*We are definitely entering into the prime for summer squash – cut them thinly, olive oil and s+p, and grill those babies up
*Try a stir fry with the scallions, cabbage, squash and kale – you may need to get excess water from the squash first by caramelizing or salting and let sit
*We are a third done with the season already with the best definitely yet to come!
*Keep washing your produce and returning your boxes/ice packs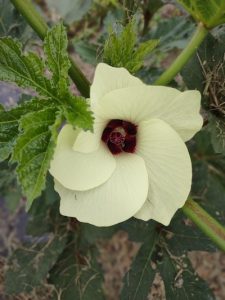 I heard a segment on MPR this week about how slow the produce season is.  "You go to the farmer's market this year and there are more soaps and crafts than there are vegetables."  We are having a similar experience this year at Earth Dance Farm, so it was a relief to hear that I was not alone.   The exceptionally cool May and then the hot and dry June had crops in a holding pattern, and they were also very vulnerable to pests.  Here is what we delivered on week 6 last season:
Summer Squash (All Shares)
Cucumbers (All Shares)
Cone Cabbage (All Shares)
Buttercrunch Lettuce (All Shares)
Sage (All Shares)
Swiss Chard (All Shares)
Snow Peas (All Shares)
Scallions (Half Shares)
Green Beans (Full and Single Shares)
Napa Cabbage (Full and Single Shares)
Beaver Dam Peppers (Full and Single Shares)
Eggplant (Full and Single Shares)
Garlic Scapes (Half Shares)
My cucumbers, green beans, eggplant and peppers are all late this year, and my snow peas did not even germinate in that dry June heat.  Our garlic scapes and our potatoes are earlier than last season.  Every year is unique and that is part of the beauty of and interest in CSA membership.  Our food is dependent on many factors, especially when we do not use chemicals.  Having a great variety of crops usually allows us to weather most storms.
~Norm
Crop of the Week: New Red Potatoes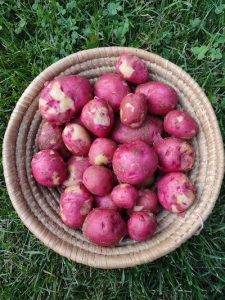 The crop of the week is new red potatoes. Originally from the mountains of Peru, red potatoes can be enjoyed in countless dishes, whether they be the center of your meal or a side. They are lauded for their ability to hold their shape once cooked and absorb flavors. New red potatoes are a good source of fiber, vitamin C, and also provide some iron. If stored in a cool, dark, and dry place they can keep for up to two weeks.
You will notice that some of the new red potatoes have scab. This is a plant disease that most commonly affects root vegetables, including potatoes. When present, the potatoes will develop slightly raised, irregular shaped bumps on their skin. But fear not, once the potatoes are peeled scab is not noticeable and is complete safe to eat.
~Jessica
Some Recipes to Try:
Preheat oven to 325 degrees F. Place oven rack in the center of the oven. Generously spray two 8.5-inch loaf pans with cooking spray and coat evenly with flour to prevent sticking.

In a large mixing bowl, add melted butter, white sugar, lemon zest, lemon juice, almond and vanilla extract and cream together until fluffy and light in color.

Add the eggs, one at a time, and mix until fully incorporated before adding another.

Evenly sprinkle the salt, baking soda, and baking powder over the top of the mixture and mix well.

Add the flour ½ cup at a time and mix entirely between additions.

With a rubber spatula, gently fold in the summer squash and poppy seeds.

Divide the batter evenly between the two prepared loaf pans.

Bake at 325 degrees F for 60-65 minutes or until a skewer inserted into the middle of the loaf comes out clean. Be careful not to check the loaves early or you may cause them to sink slightly in the middle.

Place loaves on cooling rack to cool 5-10 minutes before carefully removing from the loaf pans to cool completely (about an hour). One of our interns made this for dessert and it was sooo delicious, I just had to put it in the newsletter!

Store covered well for about three days or loaves can be frozen. To freeze loaves, cool completely and then pack into gallon freezer bags and seal. Best if frozen the same day as baked.
Weigh your cabbage to see how much salt you should use. (We have found that 2 medium cone cabbages makes about two quarts of kraut)

Remove the outer leaves of your cabbage and any that are damaged. Discard. Cut out the core and rinse the cabbage well, allowing the water to flow between the cabbage leaves. Drain well.

Reserve 1 outer leaf. Thinly shred the remaining cabbage with a knife or food processor. Place in a large bowl. Sprinkle the calculated amount of salt over the cabbage and toss well. Let sit for 15 minutes.

Massage the cabbage with your hands for 5 minutes. The cabbage should release a good amount of liquid during this time.

Pack the cabbage firmly into a very clean glass quart jar. Pour the liquid that was released during kneading on top. Cut a circle the same diameter as your jar out of the reserved cabbage leaf. Place it on top of the packed-down cabbage. Place a weight on top of the cabbage to ensure that it stays under the brine. If the brine doesn't completely cover the cabbage and weight, top off with a 2% solution of salt water (1 teaspoon salt per cup of water).

Screw a plastic lid onto the jar. (At Walmart we found some ball mason jar fermenting lids with springs in them that work super well) Place the jar in a rimmed pan (to catch any overflow) and allow to ferment at room temperature until the kraut is as sour as you like it. This can take anywhere from 1–4 weeks.

After it's done fermenting, store the sauerkraut in the refrigerator
Bring a pot of salted water to a boil. Add potatoes and cook until soft, approx 10 minutes. Drain.

While the potatoes are boiling, combine red onion, green pepper, mustard, olive oil, vinegar and mayonnaise and season with salt and pepper.

Once the potatoes are done, toss them into the bowl with dressing and add scallions and additional salt and pepper to taste.

Serve room temperature or refrigerate until ready to serve.