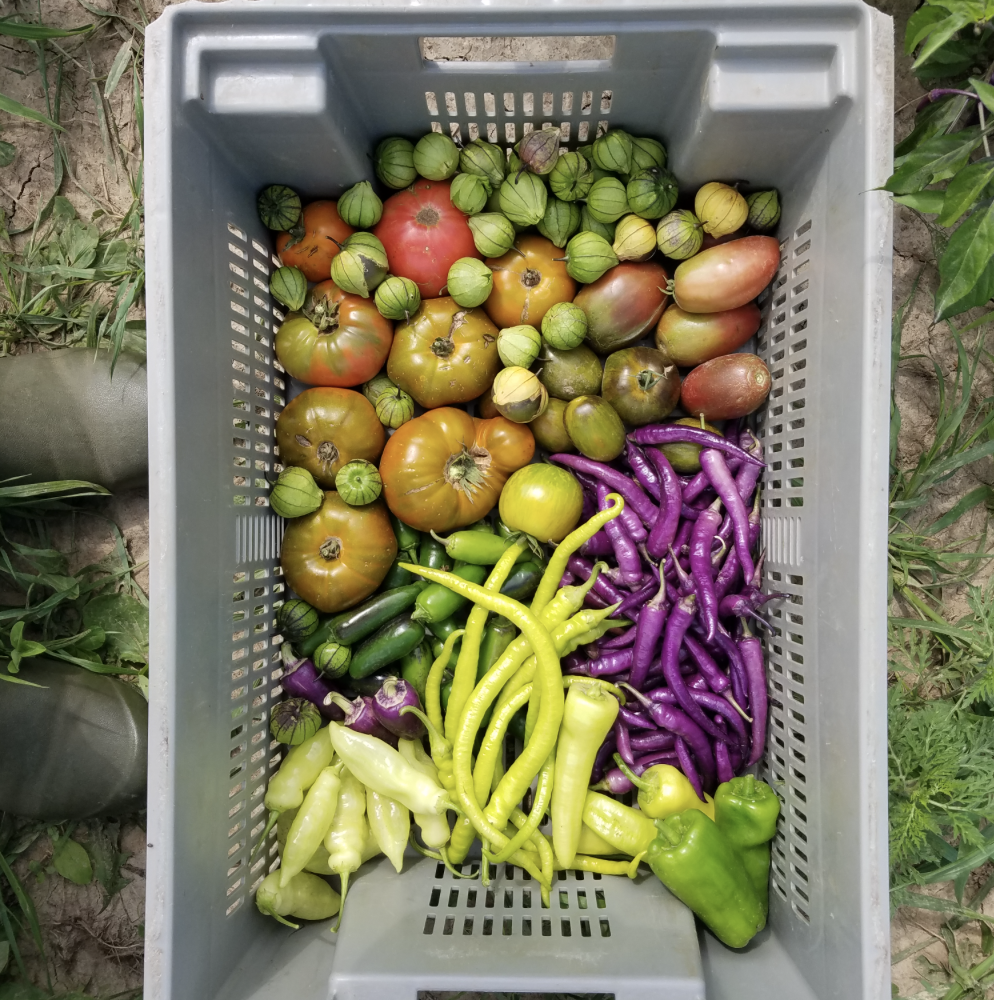 "Is it really so that the one I love is everywhere?"
~Rumi
Summer Share Box 8 Crop List
Beets – All shares
Scallions – All shares
Summer Squash – All shares
Zucchini – All shares
Kale – All shares
Cucumbers – All shares
Parsley – All shares
Red Cabbage – Full and Half shares
Eggplant – Single and Half shares
Green Beans – Full and Single shares
Snap Peas – Full and Single shares
Bell Peppers – Single shares
Tomatoes/Sweet Onions – Full shares (Farmer's Choice)
Farmer Notes
It is one month until our Farm Party 2019 on September 7th.  Stop by anytime in the afternoon to

A harvest from Josh and Vanessa's garden.

partake in tomato/salsa canning, farm tours, lawn games, spaghetti dinner, crafts, bonfire etc.

Very good timing for 1.5 inches of rain on Monday.
Enjoy the red beets – it is our crop of the week.  We will have more of them later in the fall season.
We have 3 types of cucumbers this year.  Presently you are receiving our standard Marketmore and a snake-like variety called Suyo Long. Beginning next week we will begin a pickling variety that has more of a block like shape with fewer seeds.
This is the first box without lettuce – next week we have Magenta red leaf lettuce.
Tomatoes are just ripening. We have four varieties of smaller tomatoes and 6 or so of slicers.  Everyone will receive them in several boxes over the course of the next 6 weeks.
Please return our boxes and ice packs each week.
Always wash the produce before you eat it.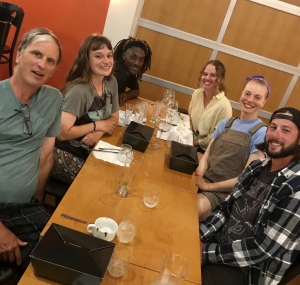 Lately we have been watching early blight creep up into our tomato plants.  The leaves get black spots and discoloration and then the leaf dies and is brown.  This process proceeds up the plant until the plant is dead.  This is natural since the spores live in the ground.  The hope is always that you do what you can to delay this: (set out strong healthy plants, plant them into plastic mulch to prevent rain splash, trellis them asap so that they are not blown over in early summer rains) so that a fair amount of fruit ripens before the plant succumbs.  A final thing a farmer can do is spray the plant from early on with a fungicide.  There are a dozen or so that are produced for organic use that help with early blight, late blight, scab, damping off,  fusarium, powdery mildew, downy mildew etc., but I try to minimize my use of even organically approved chemicals.
This year is especially wet, with the Rochester area receiving 32 inches of rain so far this year compared to our average of 15.5.  We also lost our second planting of Genovese basil due to downy mildew.  This would have been timed nicely to arrive next week with the tomatoes.  We may try using organically approved beneficial bacteria as a fungicide next year on one bed to experiment on how long it prolongs the life of a tomato plant.  We will keep you posted.
~Norm
Crop of the week – Beets
Beets are a crop that few people have never heard of and are common here in the United States. The ancestor of the commercialized beet – like the ones you received in your box – are thought to have originated during prehistoric times in North Africa and could be found growing along both Asian and European shorelines. Before they were cultivated, people only ate the leafy greens. The Romans were some of the first to grow them for their roots and later invading peoples were responsible for
spreading them throughout Europe. During the 19th century they were noted for their concentrated sugar content and the first sugar factory to process beets was built in Poland. During a time when sugar cane access was restricted by the British, Napoleon ordered that the beet be used as the primary source of sugar, solidifying its well-known status.
Tasty juiced, baked, or plain raw, the beet is a powerhouse of vitamins and minerals. They are high in copper and manganese, while promoting kidney health and delivering both antioxidant and anti-inflammatory benefits. They have even been studied to help protect against heart disease, birth defects, and certain cancers, especially colon cancer.
~ Farmer Josh
Some recipes to try:
In a large bowl, combine lime juice, coconut milk, sugar, and fish sauce. Whisk until sugar dissolves, then toss in red cabbage and scallions until evenly coated.

Optionally top with fresh cilantro.
Heat olive oil in large skillet (cast-iron ideal) on medium. Add onion and cook, stirring occasionally, until tender, about 5 minutes. Add bell pepper and red chile and cook, sotirring occasionally, for 4 minutes. Add garlic and cook an additional minute. Add in tomato.

stir in rice and then push rice mixture towards the edges of the of the pan to create a small opening in the center. in this opening add tomato paste, paprika and cook undisturbed 1 minute.

Stir in white wine, incorporating everything together, and cook while continuing to stir until all the wine is absorbed, about 3 minutes.

Add 3 cups water, lemon zest and salt and pepper. Bring to a boil, then reduce heat and simmer covered for 11 minutes.

Add green beans and cook, covered until rice is tender and liquid is absorbed, about 4 more minutes. Optionally top with cilantro and serve with lemon wedges.
Passive Time

30-60

minutes
Passive Time

30-60

minutes
Line a 4 1/2 by 8 1/2 in. loaf pan with parchment, leaving overhang on 2 sides.

Heat 1 tbsp olive oil in large saucepan on medium. Add onion, half of the garlic, and 1/4 tsp salt and cook, stirring occasionally, until tender, 5 min. Add 2 cups water and bring to a boil. While whisking, slowly stream in chickpea flour and whisk vigorously, off of heat, until mostly lump free.

Transfer mixture to food processor with lemon zest and puree, gradually adding 1 tbsp oil until completely smooth. immediately transfer to prepared pan and smooth top. Cover with another piece of parchment and another loaf pan and press with a heavy object. Refrigerate until firm, 30 to 60 minutes.

Cut chickpea mixture into 1/2 inch cubes. Heat 1 tsp oil in small skillet and cook in 2 to 3 batches, turning occasionally, until browned, 3 to 5 minutes. Transfer to paper towel to drain.
Heat grill to medium high. Slice eggplants lengthwise, 1/2 inches thick. Brush eggplant slices with 1 tbsp olive oil, season with salt and grill until tender and lightly charred, about 3 minutes per side.

in a small bowl, whisk together yogurt, lemon juice, remaining garlic, and a pinch of salt. Drizzle yogurt sauce over eggplant and sprinkle with chickpea croutons and scallions.
Eggplant is porous, soaking up oil like a sponge as it cooks. To avoid sogginess, brush olive oil on slices (instead of drizzling) before grilling them.
Cook rigatoni per package directions. Reserve 3/4 cup pasta water.

Meanwhile, heat olive oil in large, deep skillet on medium. Cook shallot, stirring occasionally, until golden brown, 3 to 4 minutes. Add zucchini and summer squash and salt and pepper and cook, stirring occasionally until squash is very tender but still holds its shape. 10-12 minutes.

Add pasta to skillet and toss with squash and grated pecorino cheese, adding the reserved pasta water 2 tbsp at a time to form a sauce that coats the pasta.

Fold in mint and lemon juice; top with additional cheese and pepper if desired. Serve immediately.