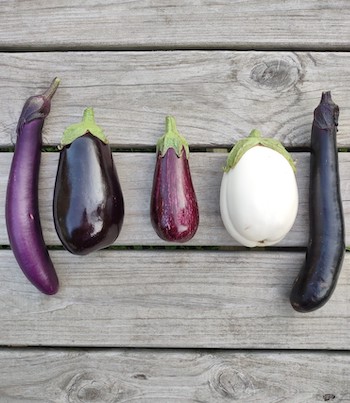 The highest political buzz word is not liberty, equality, fraternity or solidarity; it is service."
~Arther Hugh Clough~
Summer Share Box 10 Crop List
Sweet Corn – All Shares
Watermelon – All Shares
Squash – All Shares
Eggplant – All Shares
Peppers (Green Bell and Hot Wax) – All Shares
Basil – All Shares
Cilantro – All Shares
Mini Tomatoes – All Shares
Slicing Tomatoes – All Shares
Cucumbers – Full and Flex Shares
Okra – Full Shares
Torpedo Melon – Full Shares
Farmer's Notes
*Everyone receives slicing tomatoes this week and going forward for a few weeks now.  We grow five different varieties.  At times you may have to let some sit on your counter until they ripen to your liking
*At next week's delivery we are offering an add-on 'salsa box' which includes: sweet corn, tomatoes, bell and hot peppers, onions, fresh garlic and cilantro.  This will be in a half bushel box for $35 – signup and payment using the miscellaneous option is here:  https://earthdancefarm.net/csa-registration/
*Make some fresh salsa or pico this week and enjoy it with chips and a nice cold beer
*Eggplant for all this week as well, 2 varieties of both Japanese and Italian – this is our vegetable of the week
*The small oblong melon for the full shares is a Korean melon called Torpedo, and has a crisp white flesh that is refreshing and not overly sweet
*Cucumbers are winding down, but summer squash is still going strong
*Our 2nd planting of sweet corn should be ready for box 12
*There will be NO fall harvest party at the farm again this year due to the rise in Covid transmission.  Individual farm visits are welcome
*Thank you for returning our boxes and ice packs each week
I have always considered myself a lousy dancer.  I feel like I should have zerks on my hips that I can grease before I hit the floor.  The music and beat that I hear in my head is somehow lost in translation to my body.  It does not help that I have always been self conscious, and never made a lot of time to practice. Dancing with a partner only seems to exacerbate the situation – who leads? which steps?  How do we get in sync?   There is a lesson here, to get out of my head, relax and be present in the here and now, let go of the desire to control.  Diane and I try to have a dance night once a month or so in our dining room.  It is fun and exhilarating and a great way to unwind and let go.  There is no right or wrong, it is purely creative.  Age has graced me with the wisdom to not be so concerned with how I am perceived.
Learning to partner with Mother Nature has also been an evolving dance for me – a letting go of so many things beyond my control, a deep gratitude for the reality of the present tune, learning and growing and changing and … breathing!
~ Your farmer of Earth Dance Farm
Crop of the Week: Eggplant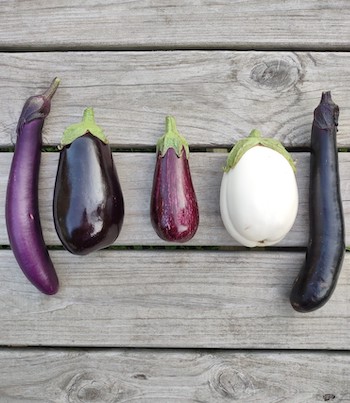 Originating in India, eggplant is a member of the nightshade family, which also includes tomatoes and potatoes. Although the dark purple variety is the most common, eggplant grows in a wide variety of shapes and colors. The white egg-shaped ones were one of the earliest varieties. They're high in antioxidants and many essential nutrients while remaining low in calories. Eggplants last in the fridge for 5-7 days, where they do best wrapped in a paper towel and placed in a reusable container. However, if you intend to use them sooner, the texture and flavor are best preserved when kept in a cool spot, away from sunlight. Eggplant is very versatile and can be enjoyed grilled, stuffed, roasted, or incorporated into soup, stew, or the classic eggplant parmesan.
~Katie
Some Recipes to Try:
Place zucchini and squash in a strainer set over a bowl. Sprinkle with 1 Tbsp salt and toss to combine. Let sit 10 minutes then shake in strainer, pressing gently, to remove any excess liquid.

Whisk lemon juice, honey, pepper, 1/2 cup basil, 3 Tbsp oil, and 1/4 tsp salt in large bowl. - Heat remaining 2 Tbsp oil in a large skillet over medium heat. Cook the garlic until it begins to sizzle and turn brown (5-7 minutes). With a slotted spoon, transfer the garlic to the bowl with the dressing.

Increase heat to medium-high and add the eggplant and 1 cup of tomatoes and cook, stirring occasionally, until the eggplant is browned and cooked through and the tomatoes begin to burst (6-8 minutes). Season with the remaining 1/4 tsp salt and transfer to the bowl with the dressing

Cut remaining tomatoes in half lengthwise and add to bowl with dressing. Add zucchini and squash; gently toss to combine. Add 3 Tbsp olives and 2 Tbsp basil then transfer with tongs to a platter, letting extra liquid drain and remain in bowl. Lay mozzarella on one end of the platter and drizzle with oil. Top the dish with the remaining 2 Tbsp basil and 1 Tbsp olives.
Preheat the oven to 400 degrees F.

Cut the eggplant, bell pepper, and onion into 1-inch cubes. Toss them in a large bowl with the garlic, olive oil, salt, and pepper. Spread them on a baking sheet. Roast for 45 minutes, until the vegetables are lightly browned and soft, tossing once during cooking.

Place the vegetables in a food processor fitted with a steel blade, add the tomato paste, and pulse 3 or 4 times to blend. Taste for salt and pepper.

Use as a spread for crackers, bread, or in a veggie wrap!
FOR THE CORN: Preheat your grill to low. Peel off the husk, strip away all the silk and place the corn on grill grates. Turn once and grill until bright yellow and kernels are tender. Increase the heat to medium-high and continue to grill until a few kernels char. Charring the corn is totally optional.

Combine all ingredients into a large bowl, cover and refrigerate until ready to serve.

Toss once more before serving. Serve with tortilla chips or on tacos, enjoy!