"Write it on your heart that every day is the best day in the year."

Ralph Waldo Emerson
Summer Share Box 2 Crop List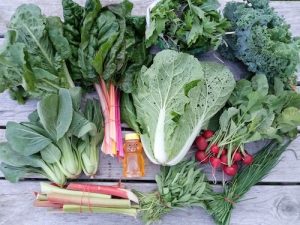 Bok Choy – All Shares
Honey – All Shares
Kale – All Shares
Napa Cabbage – All Shares
Sage – All Shares
Radishes – All Shares
Romaine Lettuce – All Shares
Rhubarb – Flex Shares Only
Chard – Flex Shares Only
Asparagus – Full Shares Only (Not Pictured)
Chives – Full Shares Only
Greens Mix – Full and Half Shares Only
Farmer Notes
*The radishes add some needed color to the box of green, and a nice crunch
*The honey is from last year's harvest and is not pasteurized
*Use the honey to make a tasty salad dressing
*The salad mix contains several types of kale and Asian greens
*Remember to soak any green(kale, choy, chard, napa) in very cold water for 20 minutes or so to rehydrate them if they look a bit wilted
*Make some sage butter, or dry it for later cooking.  You can also use it to make a dressing and, of course, in soups, with meats or on eggs
*Romaine is given most every week as the foundation of your go-to salad
*Garlic scapes, some strawberries, and kohlrabi should be up for week #3
*Tiny flea beetles make the holes in the Napa and Bok Choy even though we have row cover on them
*Please wash everything well and remember to return our boxes and ice packs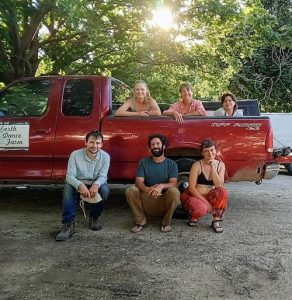 Flea beetles are tiny, black and jump around in swarms.  They have one hatch in May and another in early August, but they remain a pain all season long.  The crops that they love the most ( Napa, Choy, kohlrabi, radishes, and baby greens) are covered with row cover as soon as they are planted in the field by seed or transplants.  Even so, these little buggers are already in the soil or manage to sneak under the fabric and do their damage.  Some seasons are worse than others, and at times we need to spray a pyrethrin based, organically approved, Pyganic just to save a crop from failure.  I know that these holes in the leaves do not look appealing, but there is nothing in the least to worry about.  We wash the produce and you should as well.  There is ample research that shows that crops that have struggled to overcome pests actually have more phytonutrients than those who have not.  It is also a fact that some 40% of the produce grown here in the U.S. never makes it to the dinner table.  We try our best to grow food that is nutrient dense, fresh and, most of the time, looks fantastic.  That being said, if a crop is subpar in your book, shoot me an email and let me know – we are always striving to do better.
Thank you for your confidence,
Crop of the week – Bok Choy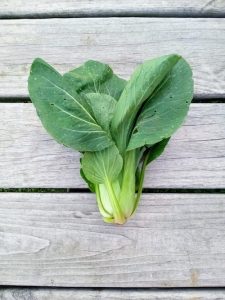 Bok choy is a member of the brassica genus, which includes vegetables such as brussel sprouts, broccoli, and cabbage. Bok choy was first cultivated in China around 3500 years ago. Its cultivation and use in the United States can be traced back to the 1800s with the influx of Chinese immigrants into California's farm labor force. Popular in Asian dishes such as Kimchi, the slightly bitter and nutty flavoring of bok choy is well-matched with soy sauce, chili paste, and garlic. All the parts of the plant are edible. Its leaves cook quickly while the stalks may take a few minutes to become tender. Bok choy could also be used raw like other cabbages.
~Farmer Kel
Some Recipes To Try:
Heat vegetable oil in a large skillet over medium-high heat. Add garlic and ginger and cook until fragrant, about 30 seconds to a minute.

Add bok choy, soy sauce, and 2 tablespoons water. Cover and cook 1 minute, then remove lid and cook, stirring occasionally, until cores are tender and all liquid has evaporated. Transfer to a serving dish, drizzle with sesame oil and sprinkle with sesame seeds, if using.
Heat the olive oil in a large frying pan over medium-high heat. Add garlic and cook until fragrant, about 30 seconds.

Add peanuts and cook, stirring constantly for 20 minutes. Transfer mixture to a small bowl and set aside.

In a small bowl, combine dressing ingredients and stir until smooth. Add 1 tbsp water, if necessary, to thin out the dressing.

In a large bowl, combine the salad ingredients.

When ready to serve, add dressing and toss to combine.

When ready to serve, add dressing and toss to combine. Season with salt and pepper and top with peanut mixture.
Mix together all ingredients except the olive oil.

Slowly whisk in the olive oil until the dressing thickens and forms an emulsion.

Taste and adjust quantities as desired.
Lemon, orange, or lime juice can be substituted for the vinegar.
Add fresh herbs to the dressing to create endless variations!
Store in the refrigerator for up to 2 weeks.