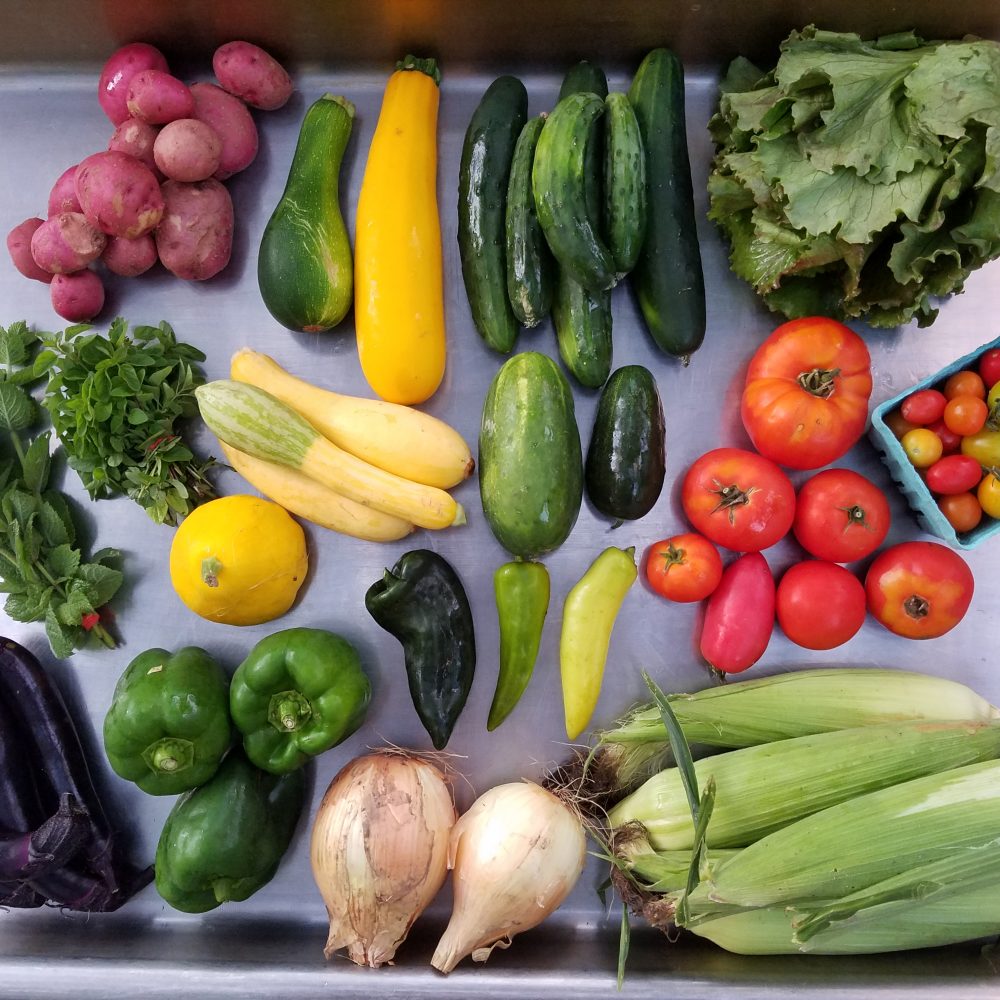 "Let us linger here awhile in the foolishness of things."
~Unknown
Summer Share Box 10 Crop List
New Red Potatoes (All Shares)
Slicing Cucumbers (All Shares)
Pickling Cucumbers (Single and Half Shares)
Zucchini (All Shares)
Summer Squash (All Shares)
Sweet Corn (Full and Single Shares)
Sweet Onions (All Shares)
Summer Crisp Lettuce (All Shares)
Eggplant (Full Shares)
Peppers (Bells for All Shares & Poblano, Italian Frying, and Hot Wax for Single and Half Shares)
Tomatoes (All Shares – Slicers and/or Minis)
Herb (Oregano for Full Shares and Apple Mint for Single and Half Shares)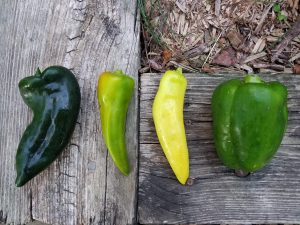 Farmer Notes
*Our fall farm party is Saturday Sept. 7 th , come anytime between 12 and 5 for farm
tours, crafts, spaghetti dinner, bonfire, lawn games and tomato canning if you like.
Please rsvp if you can, but don't hesitate to come spur of the moment!
*Everyone should get sweet corn next week
*Summer red lettuce will turn back to green romaine for box 11
*Green beans, melons and fennel are still a couple of weeks out yet
*Make some pico with fresh peppers, tomatoes, onions, corn, oregano, lime, s + p
and garlic … maybe a stitch of sugar
*Most everything in the box, save the cukes and lettuce are awesome on the grill
*Tomatoes are really coming in. Let me know if you want any for canning next
week: $30/bu. or $20 for a 5/9ths box.
*We have been short on ice packs – please return them
*Wash all of the produce before you eat it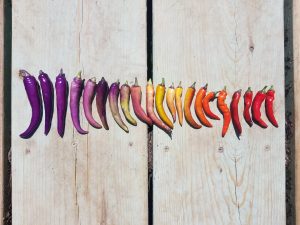 Wow, the summer CSA season is over half way done now which means that summer is
slipping by us. We can sure notice the days getting shorter both in the morning and
in the evening. The plants in the field react to the day length as well. We do very
little field planting after Sept 10 th and most of our time is dedicated to harvesting
and preserving the harvest. Thankfully, the weeds also follow these same rules and
tend to grow a lot slower with less sunlight.
Our intern help also shifts around this time of year as several of our college folks
head back to school and we bring on 2 new interns to help finish out the season. We
are definitely still in the thick of summer crops with the peppers, tomatoes, onions,
sweet corn, eggplant, cucumbers and the melons just turning, It will be another
month before we return to the brassicas, spinach, winter squash, fall apples, carrots
and beets. It is a fun box this week with lots of recognizable crops and tons of color.
I hope you are all savoring these last weeks before school begins!
~Farmer Norm
Crop of the week – Tomatoes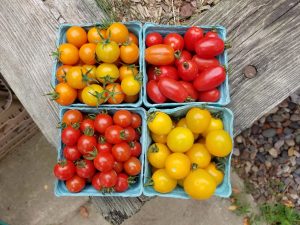 Earth Dance Farms crop of the week is tomatoes. The tomato has been a prominent choice by home gardeners for many years, and its popularity continues to rise. Tomatoes are part of the Solanaceae family (aka nightshades) and range from vines, herbs, shrubs, trees, and many important agricultural crops like eggplant, peppers, and potatoes. This delicious and brightly colored fruit has a wide variety of uses in the kitchen and can be consumed raw or cooked, in many dishes, sauces, salads, and drinks. While botanically categorized as a berry, it is often referred to as a "culinary vegetable" because of their low sugar content in comparison to other "culinary fruits". The flavors of the tomato can range from sweet, tart, tangy or balanced, and will depend on the type of tomato that is consumed. At Earth Dance Farm we grow a variety of slicing/canning and cherry tomatoes, and their colors vary as well. When it comes to storing tomatoes, it is often recommended to leave them on the table or counter at room temperature until fully ripe and ready to consume. Another tip to help tomatoes retain their moisture and plumpness is to store them upside down on a flat surface with the stem removed.
This method is effective because it creates a seal that prevents wrinkling due to moisture escaping from the top portion of the tomato where it is attached to the vine. We hope you enjoy this week's tomatoes and don't forget to try some of the delicious recipes listed in the newsletter.
-Farmer Jon
Some recipes to try:
Heat a large frying pan to medium-high heat. Add the oil, water, onions, peppers and potatoes and sauté for 7 mins.

Mix in the chopped tomatoes, water, cinnamon, smoked paprika, honey, salt and pepper. Bring to the boil and reduce heat to low and cook for 20 mins till the tomato sauce is thickened.

Do keep an eye on the mix during cooking as you may need to add a tbsp or two of water so that the tomato mix has a passata type consistency. Adjust the seasoning.

Break the four eggs on top of the tomato sauce and cook for about 10 mins until the eggs are just set, or longer if you prefer your eggs cooked harder.

Top the Shakshuka with your chopped herbs. This dish pairs well with crusty bread.
Preheat oven to 400 degrees Fahrenheit and line a large, rimmed baking sheet with parchment paper for easy cleanup. On the baking sheet, toss the whole cherry tomatoes and sliced zucchini and squash with 2 tablespoons olive oil. Sprinkle with salt and pepper and arrange in a single layer (or as close to a single layer as possible). Roast for about 25 minutes, tossing halfway, until the cherry tomatoes have burst and the squash is tender.

Meanwhile, bring a pot of salted water to boil and cook the pasta until al dente, according to package directions. Before draining the pasta, reserve about 1 cup of the pasta cooking water. Drain the pasta and return it to the pot.

While the pasta is hot, add the lemon juice, butter, goat cheese, garlic and red pepper flakes to the pot. Add about ¼ cup of the reserved pasta cooking water and gently toss the pasta until the ingredients are evenly mixed together and the pasta is coated in a light sauce (add more reserved cooking water if the pasta seems dry).

Once the tomatoes and squash are out of the oven, add them to the pot along with all of the tomato juices. Gently toss once again to combine. Season to taste with salt (I added more than ½ teaspoon) and freshly ground pepper, then sprinkle chopped basil over the pasta and divide into individual serving bowls. Serve immediately.
Whisk water, vinegar, oil, sugar, salt, and pepper together in a large bowl until smooth; add cucumbers, tomatoes, and onion and stir to coat.

Cover bowl with plastic wrap; refrigerate at least 2 hours.
Preheat oven to 475 F, and put oven rack as high as it will go. Spray a baking sheet with non-stick spray.

Wash squash and cut off stem and flower ends.

Cut each squash into quarters lengthwise, then cut into pieces about 2 inches long.

Combine olive oil, lemon juice, mint and salt ; then put that mixture into a plastic bowl and toss squash with the mixture.

Arrange squash on roasting pan, in a single layer as much as possible. (I would recommend using two baking sheets if it seems really crowded.)

Roast squash, turning every 15-20 minutes, until slightly browned and cooked to your liking. I turned my squash twice, with a total cooking time of 45 minutes, but I would start checking after 35 minutes.

When the squash is done, put it back into the same bowl and toss with the Feta cheese.

Season with fresh-ground black pepper to taste. This can be served hot or at room temperature.