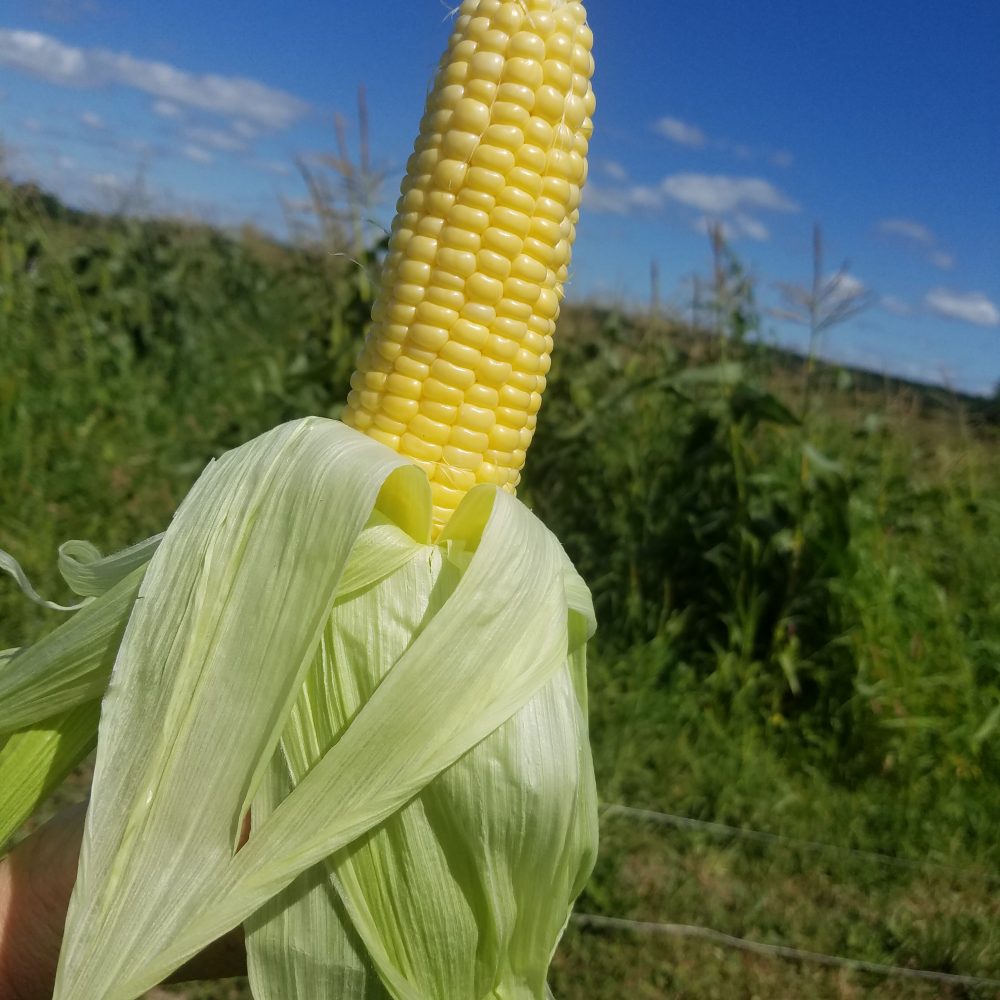 "If we have no peace, it is because we have forgotten that we belong to each other."
~Mother Teresa
Summer Share Box 11 Crop List
Sweet Corn (All Shares)
Slicing Cucumbers (All Shares)
Pickling Cucumbers (Full Shares)
Zucchini/Summer Squash (All Shares)
Sweet Onions (All Shares)
Summer Crisp Lettuce or Romaine (Full and Single Shares)
Kale (All Shares)
Eggplant (All Shares)
Peppers (Bells for Single and Half Shares & Poblano for Full Shares)
Slicing Tomatoes (All Shares)
Mini Tomatoes (Full and Single Shares)
Herb (Oregano for Single and Half Shares and Dill for Full Shares)
Farmer Notes
-Farm party is Sat. Sept. 7 th – see the farm article for details
-Sweet corn has some smaller ears in this second picking
-Eggplant is awesome sliced fairly thin brushed with olive oil and grilled, topped with parmesan
-Make a salsa with many of the veggies and herbs
-Should see green beans, beets, fennel, and some melon beginning next week
-One week break before we see round 2 of sweet corn
-Canning tomatoes are available for the next 2 weeks: $30 a bushel or $20 for a 5/9
bushel box
-Cut the mini tomatoes in half and add some basil/parsley with balsamic and enjoy
the explosion of summer
-Please wash all of your produce and return our boxes and ice packs each week
Fall Farm Party 2019
Since our first season back in 2006 we have had a farm gathering for members to
celebrate the year of good food. It has always been in October with hayrides,
pumpkin picking and chili. We decided to mix it up a bit this year and have it earlier
with a focus on tomatoes. Some of my siblings come up each year to can tomatoes
whole and also into sauce, juice and salsa. This activity will be going on during our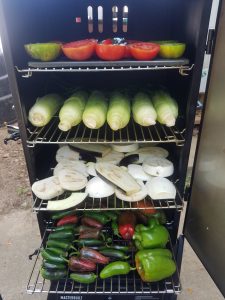 farm party on Sat. Sept. 7 th , as well as the smoking of peppers and other vegetables,
and you are invited to step in and participate at some level if you have interest. We
will have tours of the farm fields and animals, a craft for kids and adults, lawn
games, a bonfire, and a meal from the farm featuring spaghetti, tomato salad, grilled
eggplant, chips and salsa, bread with herbed butter, plus drinks and dessert. It is
really low key and a lovely place to hang out and spend the afternoon. We would
love to see you!! Rsvp is you can or just swing on by if your schedule allows. Bring a
dish to share if you can, but don't sweat it if you do not have anything.
*Saturday, September 7 th 12-5. Come anytime that you are able to and leave whenever you wish.
*Directions are on our website here: https://earthdancefarm.net/contact/
We hope to see some of you on the 7th!
~Norm
Crop of the week – Sweet Corn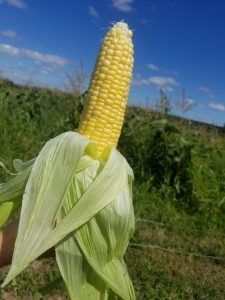 Sweet corn is a variety of the maize species where the mutation to acquire a sugary kernel was isolated and encouraged. This vegetable is native to the Central Americas, first cultivated around 7,000 years ago and was then spread to the rest of the world by Spanish explorers. The crop has achieved major success as a cash crop on every continent except Antartica. There are many different sweet corn types with variations in their taste, color, and time for maturation.
Sweet corn, a whole grain, is in possession of a high-quality phytonutrition profile containing, dietary fiber, vitamins, and antioxidants in addition to minerals in modest amounts. It is one of the finest sources of dietary fibers, with 100 grams of kernels containing 5% of the recommended daily requirement of fiber. Combined with slow digesting complex carbohydrates, dietary fiber in the food helps to regulate in a gradual increase in blood sugar levels. Sweet corn has high content of B vitamin constituents such as niacin and thiamin. Thiamin is required to maintain proper nerve health as well as cognitive function. Niacin helps to promote good cholesterol and lowers the chances of cardiovascular problems.
~Farmer Josh
Some recipes to try:
In a small bowl, combine the parsley, garlic, pepper, paprika and salt; set aside. Place corn in a large pot; cover with water. Bring to a boil; cover and cook for 3 minutes or until tender. Drain.

Brush corn with butter; sprinkle with seasoning mixture.
Preheat the oven to 400 degrees F.

Cut the eggplant, bell pepper, and onion into 1-inch cubes. Toss them in a large bowl with the garlic, olive oil, salt, and pepper. Spread them on a baking sheet. Roast for 45 minutes, until the vegetables are lightly browned and soft, tossing once during cooking.

Place the vegetables in a food processor fitted with a steel blade, add the tomato paste, and pulse 3 or 4 times to blend. Taste for salt and pepper.

Use as a spread for crackers, bread, or in a veggie wrap!
Slice your cucumbers very thin — I used 1/8-inch slices here but usually go even thinner on a mandoline. Place them in a 1-liter or equivalent lidded jar. Add 3 teaspoons salt and dill, then pour in white vinegar. Close the jar and give it a few shakes to begin distributing the ingredients.

You're going to find the liquid level in the jar worrisomely low as it is well below the pickle pile line, but don't fret. Within an hour or two, the salt will draw the moisture from the cucumbers and wilt them, while the liquid becomes a perfectly balanced pickle brine.

Place jar in the refrigerator near the front, which should remind you to shake it once or twice more over the new few hours. (Or whenever you're back at the fridge.) You can eat them as little as 1 to 2 hours later, but they become ideal at 6 to 8 hours. They'll keep in the fridge, submerged in their brine, for 3 weeks, though never around here.