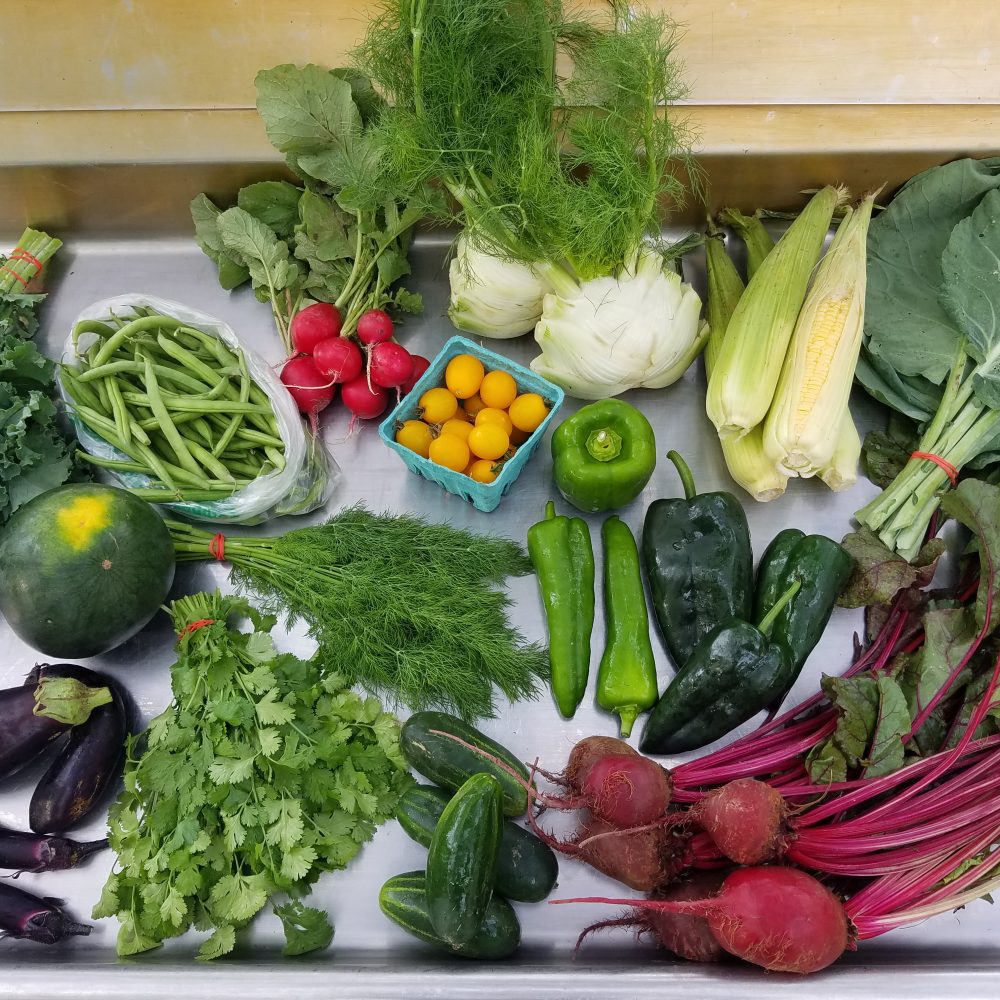 "Intuition is really a sudden immersion of the soul into the universal current of life."
~Paulo Coelho
Summer Share Box 14 Crop List
Sweet Corn – Full and Single Shares
Fennel – All Shares
Beets – All Shares
Mini Tomatoes – All Shares
Peppers – All Shares (Bell, Poblano, Italian Frying)
Eggplant – Full and Half Shares
Radishes – Full and Single Shares
Green Beans – Single Shares
Farmer's Choice of Kale/Collards – Full and Single Shares
Pickling Cucumbers – Half Shares
Cilantro – All Shares
Dill – All Shares
Watermelon – Full Shares
Farmer Notes
*We anticipated having sweet corn for all shares in this last picking but unfortunately it did not work out that way. There was an abundance of bugs out there including corn worms and corn beetles, and a lot of the ears were wilted and/or just didn't fill out enough. I am also thinking that the rain we got last week didn't help prolong their life above ground either. We picked the better ones while harvesting, however we are certain you will still find some worms in the tips of the corn. Just cut that part off!
*Half shares got the last of the pickling cucumbers in place of sweet corn
*I think it is safe to say summer squash and cucumbers are done for the year
*Tomato season is nearing its end
*We were hoping to be able to give everyone cucumbers and dill together at some point this year but the timing was never right, and now we have a ton of beautiful dill but no cucumbers! You will have to get creative with dill this week-try using it in tuna/chicken salad, making a salad dressing, or making a dill dip. You can always dry it for later too, but of course it is better fresh! We will give it one more time next week along with potatoes; a potato salad will be in store! 🙂
*Everyone will be getting a watermelon next week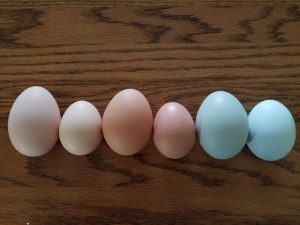 *Our younger chickens are finally starting to lay more eggs – they are smaller than the average size egg when the chickens are under a year old (they are about 7 months old) and are referred to as "pullet eggs." If you get an egg share you will notice a few of the pullets in each carton, as we like to integrate them in with the others. They won't be that size for too much longer!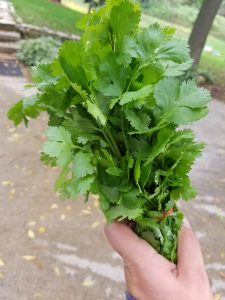 Crop of the week – Cilantro
This week's pick is Cilantro, or Coriander Sativum. A warm weather annual with white, pink or lavender flowers that is part of the Apiaceae family, which includes carrots, celery and parsley. Its lacy strong-scented foliage (Cilantro) and aromatic seeds (Coriander) have been used for centuries across the world and it originates from Middle Eastern parts of Europe. For over 5,000 years the leaves, the stems and the seeds have been used for cooking. In ancient Egypt, Coriander was placed inside tombs and in parts of Israel the seeds were used as a spice.  Cilantro, or Chinese Parsley as some call it, has not always been a culinary favorite. During the 16th century in Europe, Cilantro was treated as an unwanted herb because of its foul smell and taste. It is most popular in South Asian, Spanish and Middle Eastern dishes and salads. The plant is used for its leaves and seeds. Mature seeds have a pleasantly sweet-spicy fragrance and are used for flavoring sauces, meats, sausages, stews, chutney and pies. Furthermore, the seeds are an ingredient found in curry powder, while young seeds are never used for culinary purposes because they have an unpleasant fragrance and bitter taste. We hope you enjoy this herb!
~Farmer Fabi
Some recipes to try:
Poach the chicken: Melt the butter over medium heat in a wide, shallow Dutch oven or sauté pan. Sauté the onion and garlic in the butter, then add the white wine, if using, and the chicken breasts. Add enough water to cover the chicken breasts by 1 inch. Bring to a boil. Cover and reduce the heat to a bare simmer. Cook for 8 to 10 minutes or until the chicken is cooked through. Cool thoroughly.

Shred with two forks then chop the resulting shreds finely. You should have about 2 1/2 cups of shredded chicken.

Make the salad: Whisk together the yogurt and mayonnaise. Toss with the chicken. Mix in the shallots and dill. Taste and season with salt and pepper.

Refrigerate for at least an hour to let the flavors combine. The chicken salad will keep up to 3 days in the refrigerator.

Substitute cooked chicken: A shortcut for this recipe is buying cooked chicken, like Costco's cooked shredded chicken meat, or using your own precooked chicken from the freezer. Simply substitute about 2 1/2 to 3 cups shredded chicken.
Whisk together oil, lemon juice, and mustard and season with salt and pepper.

Toss dressing with fennel bulb and radishes and adjust seasoning if necessary. Top with Parmesan and fennel fronds.
| | |
| --- | --- |
| Cook Time | 1 hour 10 minutes |
| | |
| --- | --- |
| Cook Time | 1 hour 10 minutes |
Preheat the oven to 350 degrees (175 degrees C). Wash the beets thoroughly, leaving the skins on, and remove the greens. Rinse greens, removing any large stems, and set aside. Place the beets in a small baking dish or roasting pan, and toss with 2 tablespoons of olive oil. If you wish to peel the beets, it is easier to do so once they have been roasted.

Cover, and bake for 45 to 60 minutes, or until a knife can slide easily through the largest beet.

When the roasted beets are almost done, heat the remaining 2 tablespoons olive oil in a skillet over medium-low heat. Add the garlic and onion, and cook for a minute. Tear the beet greens into 2 to 3 inch pieces, and add them to the skillet. Cook and stir until greens are wilted and tender. Season with salt and pepper. Serve the greens as is, and the roasted beets sliced with either red-wine vinegar, or butter and salt and pepper.